Cliff
popular
Item Details
|
Reviews
(
31
)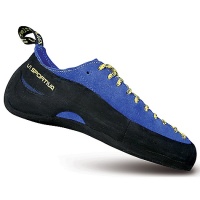 Manufacturer:
La Sportiva



This item may be available at:
Description
"FOR The perfect combination of performance, price and comfort in a well balanced, all-around climbing shoe FIT Unlined leather stretches to fit and an anatomical toe profile makes it comfortable right out of the box GRIP Vibram® XSV—the perfect combination of stickiness for smearing and hardness for edging FUNCTION The 1.1mm Laspoflex midsole is supportive yet sensitive—perfect for long free climbs, micro-edging sport routes, or training in the gym" -La Sportiva
31 Reviews

Write your own Review


Read all 31 reviews
Good beginner shoes
Review by: ferox, 2009-02-17
[How long have I had them?]
Well, I've had them for 5 years now, but have only climbed in them for about 10 months to date. Yes, there was a big pause when I stop climbing for a few years.

[Quality, Durability & Fit]
The quality on these shoes are excellent. They feel well made and I've no complains on these shoes. Fit wise, I got them tight out of the box and until now, they have stretched to a snug, comfortable fit. Durability on these have also been excellent as I've not seen much sign of wear. The blue dye will turn your feet blue for a while.

[In practice]
I have been climbing about mid 5.10s most of the time in the gym and occasionally outdoors on limestone, both on lead and top rope, from slabs and verticals to overhung routes. Have also tried bouldering a little. They edge good on small holds but the drawback to these shoes are that because it's so stiff, you will not be able to feel what you are stepping on. Smearing is mediocre with the hard rubber. On overhung routes, these shoes aren't sensitive nor aggressive enough to perform well. They are top notch in cracks however. Heel hooks okay, toe hooks not so good. The lace allows me to dial my fit according to the performance I'm looking for.

[Conclusion]
If you're just starting out and learning footwork, these shoes are great and will last forever. They are also excellent for all day comfort and crack climbing. For me, I'm looking to retire this shoe to my gym/warm-up shoe and upgrade to either something more sensitive like the Evolv Defy or edgier like the Evolv Pontas or similar shoes.
Good shoe.....bad feet
Review by: mkd739, 2008-08-03
It's a great shoe.....i wish it was a little more aggressive but the fit stretches perfect and really fits well....i just wish my left foot was a little smaller!
decent
Review by: i-like-jugs, 2008-06-29
they are a great pair of starter shoes, the major problem being that they cost about $100 and there are plenty of other shoes for cheaper.

i didnt buy these shoes downsized too much, about 1/2 size, so i ended up with a stretched shoe that soon didnt provided enough performance for me. the smearing capabilities with this shoe are limited, the toe box is wide, and the toe itself is not very aggressive. the shoe is very comfortable, does last for a while (6 months off my beginner climbing equaled horrible foot technique), and is lace up so even if they are too big, they can be somewhat compressed to squeeze out some more performance.
alright...
Review by: Alphaboth, 2008-04-05
True this shoe is for new climbers. I bought these for spending all day at a crag climbing with buddies and that's about all they're good for. Anyone climbing beyond 5.8 should look for a more agressive shoe. They are comfy and maybe a half size too big. I've heard good things about this sportivia rubber, but i haven't seen any thing great about it yet. Smearing with these was tough, and getting them to stick on tiny footholds was tough too. I'd buy them as a first shoe, definately online if you can find a good price, just by a half size smaller and you should be happy with them.
La Sportiva - Cliff
Review by: JoshSaball, 2007-07-28
Good shoe for less