Con-Tact
Item Details
|
Reviews
(
1
)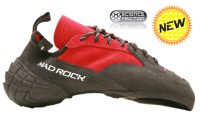 Manufacturer:
Mad Rock



This item may be available at:
Description
From Mad Rock's Website - For those who prefer the more precise nature of a lace-up shoe over the ease of a hook and loop closure, the Concept is otherwise identical to the groundgreaking Conflict model. As with the other models in the Con Series (Conflict and Contact), the Concept sports the latest generation of Mad Rocks DDS technology, the concave sole. As a function of its shape, the concave sole is more "cupped" to ensure unparalleled edge contact, and it engages the wearers foot and toe strength to grab at footholds with a talon-like grip. Now, isn't that a nice Concept?
1 Review
Well rounded design
Review by: lovemesomeclimbing, 2009-06-18
Dont let the looks fool you. This shoe is not strictly for overhanging power attack time. Im with you, I also was scared at first too. I cannot stress enough though, this shoe excels at everything. Mad Rock is going to have a very difficult time one upping this one next year.

The shoe has a slightly down lasted and turned in design. It is the perfect amount to be aggressive at times yet not hindering for slabs. The toe box is not large or obtrusive. With its size and with the nice covering of rubber around the toes you can shove it in cracks and then put it out of mind. For precision foot placements it does extremely well. As I said the down lasted design does not hinder any other aspect of the shoe. It truly is a well balanced shoe that feels like it was designed exactly for what you are climbing at any given moment. Be it slabs, cracks, or gnarly overhangs.