Frenzy Climbing Shoe - Mens
Item Details
|
Reviews
(
2
)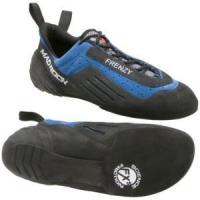 Manufacturer:
Mad Rock



This item may be available at:
Description
Long trad climbs and intense crack pitches call for the tailored performance of the Mad Rock Frenzy Climbing Shoes. Their protected lace design keeps the laces from ripping to shreds after one pitch of Indian Creek hand crack and provides a more secure jam as well. Mad Rock gave the Frenzy Climbing Shoes their X-Static lining to reduce stretch and keep the smelly foot factor low. They also added a FX5 Hooker heel cup to give you a better chance of sending that ultra-steep project you have been eyeing lately.
2 Reviews
Great comffy shoe with one flaw.
Review by: bandidopeco, 2008-09-01
These are very comfortable shoes, good for all days climbs and wide cracks. I've used them in the Creek and up the Steck/Salathe. They are stiff enough so you don't crush your feet in that size of crack and they edge pretty well.

The one flaw I have noticed is that the stitching for the eyelets is not very durable and wore through fairly quickly. This meant that the outside front eyelets unraveled and the lacing was less secure. I fixed this with super glue, but it is something that Madrock should improve on the next models.
Great fit, great feel, kinda heavy
Review by: abatterbury, 2008-08-21
I've had a pair for a few months now and have been very satisfied. They took a couple weeks to break in, but they stretched just the right amount. I feel more confident edging in these compared to my last pair (5.10 Coyotes), and I really appreciate the extra rubber on the toes and heel for comfort.

Some reviews I've read complain about durability, but I haven't noticed anything beyond the normal wear. That said, I've been climbing mostly quartzite and sandstone and thus may not have really abused them yet.

The only real downside is that they are pretty darn clunky for a climbing shoe. That's what you get with so much rubber to protect your foot while jamming in a crack, but it's overkill for everything else.

I'd say these are a great all-day shoe, especially for cracks, but a silly shoe for gym use.