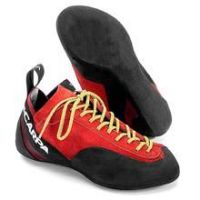 Description
Designed to offer comfort and performance, the Inferno's slip last and flat base is well suited for all levels of intermediate climbing The Vibram MegabyteŽ sole offers a combination of hardness for durability and edging with softness for smearing and friction Its 3/4 CambrelleŽ lining keeps stretching in control in the heel and instep while allowing extra sensitivity and feedback in the toe The generous rand provides extra protection and support for the heel and instep Dual webbing tabs allow you to easily slip your foot in the shoe and the lightly padded tongue keeps the laces from biting Ready for any route, anywhere. A high-performance all-around shoe, the Inferno achieves the perfect balance between the feel necessary for sport routes and the support needed for long or less-than-vertical climbs.
3 Reviews
Scarpa inferno
Review by: roc-ray, 2008-01-29
Great shoe for comfort and durabilty. I don't remember a breaking in period. I ahd mine for over 8 years and resoled them three times and they were still in great shape. I used them mainly for long routes but occasionally bouldered and sportclimbed in them. Great all round shoe
Review
Review by: gymrat, 2004-12-13
Great for a first pair of shoes. The rubber is hard enough to last on a beginners not-so-nimble feet, and the make is comfortable without loosing ajility. However, for someone looking for a more technical shoe or super sticky rubbber I would recommend most likely looking elsewhere.
Review
Review by: actionfigure, 2004-08-19
Best shoes I've had in 15 years of climbing. Shoe construction is bomber and the rubber is sticky. Scarpa is the way to go!