JB - John Bachar High-Top
Item Details
|
Reviews
(
5
)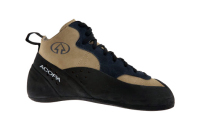 Manufacturer:
Acopa



This item may be available at:
Description
This is a serious high-top which incorporates new technology to produce a superb all around shoe. This is the first slip-lasted high-top that combines a three quarter tongue with a stiff but sensitive polymer midsole and canvas lined uppers to produce a new breed of classic high top performance.Whether it be off width, hand & fist, slab, thin dimes, or long Grade Vís, the JB is perfect for any route that requires all types of climbing technique. * Performance High-Top * Stiff Polymer midsole * Canvas lined leather uppers * Padded tongue * 4.2m RS Rubber * Full contoured rand * ~1.2 lbs. per pair * US Menís 3 Ė 15
5 Reviews
Love & Hate the Acopa JBs
Review by: justthemaid, 2010-08-07
*(Sigh)* Where do I start. I rate this shoe in the middle because it is simultaneously the best and worst shoe I've owned. Basically- The first pair I bought is my favorite pair of climbing shoes ever. Awesome all around shoe for everything but bouldering. Semi- stiff. Comfortable. They have a wide toe-box if you don't like pointy shoes. My original pair went through 5 resoles and are the only shoe I can wear for extended time. These shoes stretch very little since they are fully wrapped in rubber, so don't buy them too tight expecting them to stretch.

My complaints: I've experienced quality control issues and zero sizing consistency with the replacement pairs I have purchased. Sizing in particular is all over the board. You have to try them on and they run VERY small. I order them anywhere from 1-2 sizes larger than my street shoe. I have no retailer, so every time I purchase a new pair there is a lot of mailing back and forth and two pair marked an identical size can be totally different. Wear them in the gym a bunch before taking them outside to make sure they fit. The manufacturer will do exchanges only if there is absolutely no evidence of outdoor wear. (I learned the hard way). Acopa rubber is soft and sticky, but it rolls too easily and wears out VERY fast.

Replace with C-4 ASAP and find a pair that fit and they are awesome.
Acopa JB
Review by: singletrackmike, 2010-04-30
First off, don't believe everything Acopa tells you. If they tell you this shoe performs, you can take that to the bank. But to tell you to order your street size - forget it!
Everything I own for my feet from Sportiva, Kamick, Cabelas, Nike, Lowa, is a 9.5, so of coarse I that's what I ordered for the JB's.
When I got them, I could put them INSIDE my 9.5 comfortably snug Sportivas. I eventually went up to a size 11, and still, they are just a little smalller that my Sportivas, but they are comfortably snug.
The toe box on the JB's have about a 1/2" more room side to side than other shoes. The rubber was incredibly tacky and sticky right out of the box.
After reading another review about how they pop off the rock with no warning, I was really hesitant to put them on anything really smooth or real small. But after using them for a couple of weeks, I love them! Too early to tell about how they hold up, but they look to be pretty well made.
And they do smear, and edge on 5.12 climbs with confidence.
the good shoe
Review by: tombanjo, 2009-08-21
don't worry about the stiffness of the shoe. break it in and it'll work just fine. it's good for everything. crack, face, slab, everything. sport, trad, bouldering. it's the only shoe i own.
Poor quality
Review by: napoleon_solo, 2008-10-07
I got this shoe in my street size as recommended. It was tight, but not painful...on the ground. After about 10-20 minutes on the rock, however, the JBs become the cruel shoes. Taking them off, I noticed that the tops of my toes have indentations and the toes themselves are purplish white......I'm going to say that's because the circulation is completely cut off.

While breaking in the shoe, I have done 10-15 ascents with it. I think it's better than the Mythos when it comes to edging, although it's hard to say. When it comes to smearing, however, it is a distant second to the Mythos. The JBs don't smear. At all. I put on my Mythos and did a slabby climb that I was having problem with in the JBs and went up with no problem. I put the JBs back on and couldn't stick to save my life. Perhaps if I had gone a half-size to a size larger, I would be able to bend my toes a bit more and get more surface area for the smear, but, at this point, I'm not really willing to give the shoe a second chance. If a shoe can't smear, it's not an all-purpose shoe which is what I was looking for.

Finally, after the short break-in period that I've been giving them, the toe on the right shoe has started to delaminate. That's after about a dozen climbs. Wow. There are some clear quality-control problems here.
Best High-Top I ever owned.
Review by: Jbitz, 2007-03-02
I owned various high-top designs such as La Sportiva Kaukulators and Megas. This pair of JBs Iíve had for the past couple of months now and have used them at a few local gyms several times a week. I was going to wait until I tried them outside to submit a review, but their performance indoors has been outstanding! This shoe is designed differently then any other type or climbing shoe I have seen. I would describe it as a hybrid technical shoe. The rubber has excellent grip and great coverage over entire shoe.. It performs well smearing, hooking, and edging on both sides of shoe. A toe in is very stable in a two finger pocket and is actually fairly comfortable. I did have to go up a full size to get the fit I prefer for all day comfort, but this might be different based on preference and toe shape/size. Slipping you foot into this shoe curls your big toe downward. This took me a little time for me to really get used too, but now I can climb fairly consistently 3 grades higher then before purchasing my JBs. It is a very versatile shoe so far with the added bonus of ankle protection. Thanks John Bacher this is the shoe I have been waiting for a long time. I canít wait to try them on some real rock.