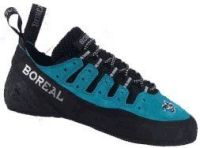 Manufacturer:
Boreal



This item may be available at:
Description
New concept climbing shoe. Incredibly comfortable and precise. EVA pad concealed in heel, protects so you survive. Fit in your street shoe size to wear all day.

Upper: Premium quality Split leather with zero stretch, highly abrasion resistant net for ventilation.

Lining: PU Air Net for ventilation and comfort.

Midsole: semi stiff

Sole: Boreal FS-QUATTRO. Thickness. 4 - 4.6 mm depending on size. IRS padded heel.

Slip lasted

Weight size 6 uk: 440g/pair
3 Reviews
Very Comfortable Shoes for wide feet
Review by: reaeper, 2010-10-13
These are quite good shoes for people with wide feet, and they seem to have nice grip.
Happy Feet
Review by: holmeslovesguinness, 2007-11-26
These are perhaps the most comfortable shoes I've ever worn. Given that I have fairly wide (EE) feet it's a challenge for me to find shoes with both a reasonably snug and comfortable fit.

I got these in my street shoe size and after a few climbing sessions they have broken in nicely (my big and middle toes lie just about flat). The mesh lining feels good, the midsole is just stiff enough to be supportive and the asymmetrical toe box is sporty but not crippling. The padding in the heel is a nice touch and totally unobstrusive. Definitely a good all-day, all-around shoe, especially for those needing a roomy toe box.
Review
Review by: omegaprime, 2006-03-20
Very comfy for an all day shoe, as I got it at my street size. Good for edging, and the new rubber seems to be sticky enough for my needs. The padded heel is a plus. Got myself the velcro version.