Magnet Climbing Shoe
Item Details
|
Reviews
(
4
)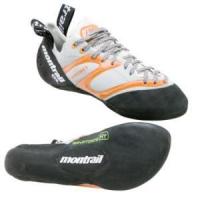 Manufacturer:
Montrail



This item may be available at:
Description
Rest on a dime in your Montrail Magnet Climbing Shoe. These climbing shoes feature Montrails stickiest rubber, Gryptonite HT, and thermo-moldable foam built into the upper so you can customize your fit. The Magnets Gryptonite soles combine extremely high friction with hardness, so you stick to the rock face like, well, a magnet to metal, yet these soles will hold up to lots of wear. Montrails thermo-moldable foam lets you get a superb tight fit, which will give you more power and better pressure distribution than the average climbing shoe. Heat them in an oven and then put them on to mold them or just allow them to mold to your feet over timeboth methods work. An edging platform under your forefoot enhances stability and power, a flexible heel lets you move and flex as needed to dance up that face, and the pointed toe lets you wedge into cracks and pockets.
4 Reviews
not really they greatest
Review by: pedro_sandchez, 2007-12-01
These were my first shoe and at first I loved them. The thermo-moldable system is awesome and makes for a very comfy shoe. I climbed in these until the left toe developed a major hole and I went with a new pair of evolvs. Originally I loved these shoes, however, they started causing me severe arch pain and the rubber is really just too soft. The toes wore out much too quickly.
After switching to the evolvs, I realized how much these montrails really arn't that great of shoes. In comparison they do not edge well nor do they smear well and the bottom of the shoe is much too stiff.
Review
Review by: unabonger, 2006-05-01
I have the lace-up Magnet and HOLY COW! IT' SO GODDAMN COMFORTABLE! I'm giving them an enthusiastic 5 of 5 for sport climbing. The fit and comfort are so good, they can't help but be excellent performers. You've got to live up to these sharp looking tires...I haven't crack climbed in them, but I've done some agressive heel hooks and heel-toe cams--they really made me levitate to the point that I have a slight hamstring pull. I hit the steep pockets at the Red, the horizontals and roofs at the Meadow, and some edgy 5.11's at Endless.

It is extremely precise, 5 of 5 for edging, exceptionally easy to use on the smallest edges and points. The rand is very thin--this means you get great feedback on your foot positin against the wall.

Smear performance is 4/5 because the rubber is very thick--I don't think the shoe conforms well to small rugosities on large smears. Laterally it isn't exactly stiff, but it isn't soft, either. Probably a bit softer than the Muira, but I'm open to debate on that. My expectation is that with a resole and thinner rubber, they will break in and become even more sensitive and softer, able to smear more effectively.
Review
Review by: zoso137, 2006-03-26
No text provided
Review
Review by: j_ung, 2006-02-19
[size=12][b]Full Disclosure: The company that manufactured this equipment provided it free of charge to RC.com and RC.com then provided it as compensation to the reviewer for his or her review. This company does not currently advertise on RC.com.[/b]

[img]http://photos.rockclimbing.com/photos//592/59264.jpg[/img]

[i]The Magnet and Wasabi.[/i]

The timer sounds off and I walk quickly to the oven and remove my climbing shoes, Montrail's new Magnets. Why, pray tell, am I cooking my shoes? Because these particular shoes, like three other Montrail models this year (Wasabi, Orbit and Index), are fitted with thermo-molded CTX Memory Foam. CTX is a nifty little addition that actually allows the wearer to create a custom fit for his or her climbing shoes. The shoes go into the cooker -- 2-3 minutes at 225 -- and presto, out pops a sticky-rubber muffin. In an industry in which the tiniest tweak is sometimes called "revolutionary," Montrail may actually have something that fits the bill. How many times have you said that the most important feature in a climbing shoe is fit? What if you could be assured of getting it right?

Montrail entered a fully saturated climbing shoe market just a few years ago. Says Kris Versteegen, editor of the B.O.S.S. Report -- essentially a Wall Street Journal for the outdoor industry – "When the whole Chinese manufacturing frenzy was going on, prices dropped," and smaller shoe makers began to take a bigger share of the market. Montrail, however, was not one of those. In fact, Montrail was already a highly respected and successful manufacturer, but not of climbing shoes.

"Then," says Montrail's John Conner, "Scott Franklin approached the company." At Franklin's urging, Montrail began to explore the climbing shoe market. Montrail already employed Jim Donini and he enthusiastically backed the idea.

The big names in climbing shoes were watching market share slowly slip away as climbers, largely creatures of habit, began to grudgingly accept other names on their feet. At that time, "Their brand's extension into climbing shoes made sense. A lot of the athletes they sponsored and sold to also climbed, so they saw this opportunity," Says Versteegen.

Montrail climbing shoes debuted to mixed reviews. A unique marketing approach -- putting free shoes on climbers' feet, instead of spending out the wazoo on ads -- lead some to think that Montrail's were so bad, they had to give them away. And some models were actually pretty bad. A short-lived slipper called the Tattoo was like wearing shoes lined with plastic pop bottles and the rubber was about as sticky. Things got a lot better with the Zealot when it turned out to be bad-ass crack shoe and the Splitter was just plain sweet as any Sportiva Mythos, minus the price tag. But still, ultimate success in the world of climbing shoes eluded Montrail. Nothing really set them apart.

[img]http://photos.rockclimbing.com/photos//696/69629.jpg[/img]

[i]Kurt Smith, wearing Magnets, on the ground-up FA of Saddle Sores, 5.10, Whipporwill, WV.[/i]

Of course, none of this is on my mind as I slip my feet into lightly-toasted Magnets. I won't swear to it, but I think a moan of pleasure escapes my lips as the warm CTX envelopes my feet in a blanket of foam. The feel is tight, but far softer than any climbing shoe I've ever worn. And though I've purposely sized both my Magnets and Wasabis down to a level that would be excruciating in any other shoe, I begin to feel a little giddy. I can't help but think of the old practical joke where you slip your passed-out-drunk buddy's hand into a dish of warm water in hopes he'll pee himself. Over the course of the next half hour, my shoes slowly cool to create a fit customized for my feet. Shortly after I am done with the Magnets -- DING! -- I pull the Wasabis from the same oven and slip into them, too. They are down sleeping bags in a world of Mylar blankets.

Wasabis and Magnets share several features, because, even though they look nothing alike, they are essentially the same shoe. Built on the same last, both sport a full-CTX toe box and heel, which means that they have memory foam pads above the toe knuckles, under the toes and on both sides of the heel. Both have synthetic leather uppers and both use Montrail's Gryptonite HT, same as the popular and aggressive Montrail Methods.

There are some key differences, however, that go beyond the obvious lace up vs. Velcro. Most notably, the lace-up Magnet, with a 1mm midsole through the entire front of the shoe, is designed for when one's weight will mostly be on one's feet. The Wasabi, however, has a 1mm midsole shaped like a doughnut for hold-grabbing flexibility without giving up the ability to edge. If you like the steeps, the Wasabi is for you. Slabs and vertical terrain? You may like the Magnet more. The Magnet also has an overlaid upper (that's the crazy-lookin' orange squiggly) for extra support.

Montrail's ultimate goal is comfort and performance. And believe me, I know that the words, "comfort and performance," have about the same effect on most climbers as a gallon of cheap whisky – zzzzzzzz -- and rightfully so. We've heard them more times than "STFU n00b."

[img]http://photos.rockclimbing.com/photos//697/69703.jpg[/img]

[i]Unknown climber, unknown location, wearing Wasabis. By Topher Donahue. Copyright: Montrail. [/i]

But there's something to it in this case. One of the first things I noticed about both models was my ability to step forcefully on obscenely tiny holds without the corresponding pain. The Wasabi is not as good at this as the Magnet, but it isn't supposed to be. I slip into those when the going gets steep. If I expect to see both in one route, I lean to the Wasabi, perhaps because I've always been a sucker for soft soles. That's too bad for me, because the Velcro on my Wasabis appears to be failing fast. According to Montrail this is because a Velcro batch in the first production run appears to have been cut and sewn incorrectly, such that the hooks face ever-so-slightly in the wrong direction. That defective batch [i]did[/i] make it to sales floors, but Montrail is aware of the problem and they're treating it as a warrantee issue. If your Wasabi Velcro takes a powder, contact them. They'll take care of it.

This will seem weird, but generally, when I wear either shoe, my feet are actually a little bit [i]un[/i]comfortable for the first route or two. Then they seem to soften up again with the warmth of my foot and the effect is just plain cool. I often find myself re-lacing the Magnets even tighter than the first time and all of a sudden, they're cozy. Along with precision comes stickiness. The Gryptonite HT doesn't appear to be stickier than any of the other high-caliber rubber out there, but it's certainly no less sticky than the best I've worn, either.

If you buy either model, I think you have two options. One is to buy them snug and hope for an all day shoe. The other is to buy them ultra-super-crazy tight and go for precision. If you do the former, then at least fit them more snugly than you normally would. I haven't noticed an obscene amount of stretch in either pair, but it hasn't been insubstantial either. Surprisingly, the highly-supported Magnet appears to stretch more than the Wasabi.

So, what do you think about Montrail's latest entry in the climbing shoe game? Do they have a good enough product? And if so, is there enough market share to go 'round? I can answer the middle question: yes, they have what could become two of the most favored shoe models ever, especially for slightly-used climbers like me who long ago gave up precision for comfort.

At the OR Show last summer, I wrote this about Montrail: [i]I'm at a loss to describe how comfortable their newest offerings truly are. The word, comfort, just doesn't seem to do it. I've worn comfortable climbing shoes and I know most of the rest of you have, too. This is better. A lot better. [/i] I stand by that. And at $100 for the Magnet and $95 for the Wasabi, I think these little toaster tarts will put Montrail firmly on the map. If they don't, it'll be a problem of branding, not design.

[/size]