Mago Climbing Shoe
Item Details
|
Reviews
(
3
)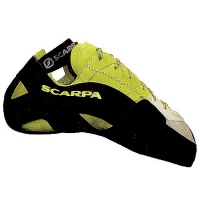 Manufacturer:
Scarpa



This item may be available at:
Description
Scarpa Mago Cliimbing Shoe Spring 2009 Mago CLimbing Shoe by Scarpa is Italian for magician for all the amazing feats that these shoes are capable of. Radical last and tensioning system for incredible front pointing and pulling power. Lace-up for maximum control and power.Features:Upper: Suede/LoricaClosure: Lace-upMidsole: X-tension systemSole: Vibram XS Grip 3.5 mmLast: FHWeight: 450g 40.5Scarpa Product WarrantySCARPA products are covered by a 1 year limited warranty from the original date of purchase. This warranty covers defects in materials and workmanship. Damage that is due to normal use and wear, abuse or accidents is not covered by this warranty. Products that have been resoled or otherwise modified are excluded from this warranty. Fit is not covered by this warranty. Except as otherwise specified above. SCARPA MAKES NO WARRANTY OF ANY KIND, EXPRESSED OR IMPLIED, INCLUDING WITHOUT LIMITATION ANY WARRANTY OF MERCHANTABILITY OR FITNESS FOR A PARTICULAR PURPOSE, OR ANY WARRANTY AS TO THE DESIGN CONDITION OR QUALITY OF MATERIALS AND WORKMANSHIP TO THE PURCHASER OF THE GOODS PURCHASED HEREBY OR ANY OTHER PERSON WHATSOEVER.SCARPA North America, Inc. reserves the right to make all warranty determinations which may include but are not limited to repair, replacement or credit for the product. If it is determined that there is no warranty issue with the returned product, the product will be returned to the dealer with a note of explanation.We ask that dealers are our first line of service in the warranty evaluation process, and prefer that all consumer warranty returns be handled through an authorized SCARPA dealer.
3 Reviews
Mago badassedness
Review by: Pac8541, 2011-08-09
Still breaking them in over the last week and a half and although they are still painful on the big toes these are the best performing shoes I've had in over 20 yrs of climbing. First pair of Scarpas, wish I'd tried them years ago. Following other's advice, I sized up 1 European size from a perfect Sportiva fit (39 to a 40). Simply awesome.
Mago
Review by: merhardt, 2011-06-02
I'll just say this. After over a year of heavy use both indoors and out, they still hold their shape. The suction when putting them on is still there after a year. The best shoe I've ever climbed in.
Scarpa Mago
Review by: Ektor268, 2009-08-18
They are super step, you can stand on the smallest edges. The heel hook is amazing, it feel super secure. Extreme down turned make it good on overhangs. At the beganing they are very uncomftable.