Mens Ballet Gold Shoe
Item Details
|
Reviews
(
3
)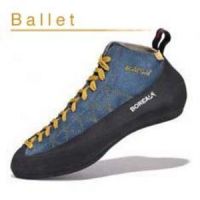 Manufacturer:
Boreal



This item may be available at:
Description
This medium-stiff, multi-purpose boot excels at technical edging. Its mid-height uppers provide excellent ankle support for all types of crack climbing and long free climbs. The asymmetrical toe shape, high arch, and cupped heel produce an incredibly comfortable and precise fit. For beginner or expert, the BALLET NEW is one of the best all round rock boots available today.
3 Reviews
Review
Review by: aromaniuk, 2006-03-06
Very great shoe!
Comfortable, very nice for wide cracks, great edging, very well built, versatile, you can climb sport or big wall routes with these babies... In the beginning is not much sensitive, but you get used...

The sole have a great grip, the only weakness is they don't last so much (specially in granite).
Next resole I will put a 5.10 or vibram to be perfect.

I love my Ballet Gold!!!
Review
Review by: holmeslovesguinness, 2004-05-24
Wearing these shoes is like riding in a Cadillac - not very sporty, but comfortable as hell. Definitely my favorite pair of shoes right now - well built, durable, fit wider feet well, lots of ankle and arch support. They edge and jam in larger cracks beautifully, but are definitely not as strong at steep smears and jamming in thin cracks. Went down a full size with mine, no problems wearing them all day.
Review
Review by: jakewolf, 2004-04-27
Great trad shoe. Very comfortable for wide toes. Have had mine resoled 6 times and they are holding up great. These edge really hard and they are as good as it gets in hand to wide cracks. Best I have owned for descents. The only weakness is they don't allow any steep pulling due to the stiffness. I sized mine 1/2 size down from my street shoe and they have been perfect.