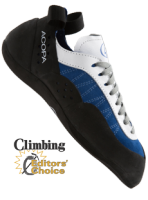 Manufacturer:
Acopa



This item may be available at:
Description
"The Merlin combines the best features of the Sidewinder, Enzo and the Spectre into one very precise and versatile steep face shoe. Its cupped inside edge provides greater bite on tiny lateral edges. The uplifted 3D outer edge yields greater backstepping feel and security. A three directional tensioned arch hugs the foot and provides greater overall shoe control. The Merlin shines on steep face climbs like those found in sport climbing and bouldering but also is a wicked tool for thin cracks due to the unique outside edge design. This shoe will outperform any top of the line sport shoes on the market today ? after you try the Merlin, you?ll never get anything else!"
3 Reviews
amazing shoe
Review by: tay10r, 2009-10-29
Acopa is a great company they were helpful when it came to returns and finding the right size. In the end I down sized 1 1/2 sizes for the perfect fit. I have owned several pairs of climbing shoes such as the 5.10 mocc.'s, 5x's, dragons, muiras, and the testarossa's, to list a few. All have their strenghts and weaknesses. But the merlins have proven their ability to me. The new technology allows you to edge and smear on the outside edge like never berfore it is absolutly incredible. It draws power to the big toe as well for precise stepping. I think the rubber is as sticky as the 5.10 stealth! The only draw back is the heel could have some improvements made for hooking. But its still far better than most. Whether it be climbing 5.11 cracks, or 5.12 sport, evan hard boulder problems this shoe does it all. I'm glad I bought mine.
Acopa Merlin
Review by: retro, 2009-04-06
I bought these shoes when they had just come out and I am just amazed at how comfortaly they fit out of the box, how quickly they broke in (slight break-in period), and how well they seem to work on all situations. My feet are very wide, full volume with a relatively high arch. Not many shoes on the market fit these flippers, but the Merlins slid on like a sock!

I had heard some less than positive reviews about the Acopa rubber, but after three seasons, I really find no credence to their claims. The rubber has worn well, sticks to granite like glue, and smears relatively well on slabby terrain.

These shoes are a fantastic trad shoe, but I find that they really excel on the steep faces and thin cracks. They hold and edge remarkably well and the shape of the shoe is neither too stiff (that you lose sensitiveity) nor too soft (so that the toes begin to ache) allowing the climber to feel the subtleties of the stone while offering the support to actually use the edges. The design in aggressive, but not radically so, so you don't feel the need to rip them off your feet at the end of every pain filled pitch. These Acopas do live up to the company Logo, and then some.

I did experience some minor delamination in both the rands (near the big toe), and two small blisters at the very tip of the toe. I notified John of this and he said "send them back and we will get you a new pair". I asked him if there was anything I could do to remedy the problem and he sent me a step-by-step outline on how to repair them myself...with a not attached saying..."if this doesn't do the trick, I have a new pair here in your size"! Oh...one other thing is the blue dye that is used in these shoes will stain your feet a lovely shade of cobalt...probably for the duration of the shoe. Mine are three years old and still dye my feet blue on those long hot days. Not a deterant by any means, but just be prepared for it before you throw on the sandals before dinner!!!

I didn't want to part with these shoes as they felt like a second skin and I had spent the better part of a season on them. Well, the barge glue has held, and I am on my third season with these shoes. I have done pretty much everything but boulder in them (and have never used them indoors). They have been stuffed in cracks, have smeared steep NH slab, been pressed on dime sized edges, and have been worn on multi-pitch routes with never a need to take them off...a quick pull of the laces is enough to reduce whatever tightness one might experience.

I like the performance that a full lace up shoe gives you not only in the fit and feel, but in the performance. These are not only a great all around shoe, but a solid performer when you are inclined to push it a little bit. To be able to take your game to the next level and do it in comfort is truly a remarkable concept...wish I had heard about this company sooner. Add the Merlin to your quiver and you won't be dissappointed.
Great great shoes
Review by: pwl417, 2009-03-24
I purchased the Merlins when I sent my Acopa Enzos in for resole (which took a very long time to get back because of the backorder on Acopa rubber). I ordered my first pair of Acopas blind because at the time no one near me was stocking them. I utilized John Bachars offer to answer any questions on fit over email(again), which made my Merlins fit absolutely perfectly. I went one full size down, and they were wearable right out of the box, though a somewhat painful (but short!)break in was necessary. 6 months later I am just sending them in to be resoled and will miss having them on my feet while they are gone. I put the Merlins through their paces 5 days a week of training in the fall and winter, bouldering outside twice, and have been wearing them 5-6 days a week since January( In NC), bouldering mostly outside with frequent gym training days as well. They have performed absolutely beautifully. The fit is exceptional, my toe power is phenomenal, the heel is like a perfect suction-cup... It's just a shoe, but its a great one. Check them out if you can!