Newton Climbing Shoes
Item Details
|
Reviews
(
12
)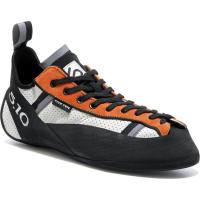 Manufacturer:
Five Ten



This item may be available at:
Description
Five Ten Newton Climbing Shoes. Five Tens stiffest shoe with a supportive midsole and sole designed for cracks, slabs and all-day routes. Think big doses of performance and comfort for long routes. Five Tens patented S-lacing and padded tongue gives a comfortable glove like fit. A stiff mid-sole provides edging power and all day support when youre a half dozen pitches off the deck and only half way to the summit. Lined Perfalon uppers are highly breathable and stretch resistant, with sticky Stealth ONYXX outsoles for durability and high-friction dependability.
12 Reviews

Write your own Review


Read all 12 reviews
Review
Review by: epoch, 2006-07-12
As a person who has gone through 2 pairs (One with a resole 2 times), it's a shame that Five Ten has discontinued the line. These shose excell in all day crack climbing. The lacing to the toe is what sold me on them by having the ability to tune the shoe where it is needed most.
Review
Review by: asclepius, 2006-04-19
These shoes fill a niche for me. I sized them tight and they are outstanding for edging and crystal climbing on slabs and vertical crimpfests, quite amazing what I have found myself standing on with them. But...Steeps are not the Newton's realm. They are too stiff and flat to really toe down with. And at a $150, they are too specialized, so buy them on sale somewhere and how you size them will dictate their use.
Review
Review by: jeff8v7, 2005-11-27
I use my Newton's when I need to keep them on all day. Very comfortable, good stickiness, and good in cracks. I don't use them for sport anymore, however because I need a shoe with better performance. It's true that they stink, but they wash up easily enough, and stay "fresh" if I keep a little cedar shoe insert in them.
Review
Review by: thirdamigo, 2005-08-09
I've had my first pair since '99 and love 'em! I love slab climbing, and long multi-pitch routes, and these shoes are great for both! My original pair have been resoled and still fit great and edge and jam cracks with precision. Still trying to get a second pair to fit as good as first.

Wide feet like mine? These will probably be a great fit then.
Review
Review by: crshbrn84, 2005-04-21
these are my tight shoes, i love them, for hard slab they rock, for over hang they rock, for vertical they rock, for small edging and smearing they can not be beat. they are a very still shoe, and they do stink to high hell but they are climbing shoes and all synthetic shoes i own smell so why would these be any different.