Phoenix - discontinued
Item Details
|
Reviews
(
39
)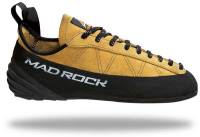 Manufacturer:
Mad Rock



This item may be available at:
Description
The Mad Rock Phoenix Climbing Shoe rises yet again All new and redesigned yet keeping what made this one of the best selling rock shoes in North America. While this shoe may be in the classic or all around category because of its extremely easy fit and stiff midsole, the Phoenix is not afraid to perform. With ergonomic lacing, FX5 rubber and a glove like fit, the New Phoenix is sure to keep the title as number one shoe in its class.
39 Reviews

Write your own Review


Read all 39 reviews
Terrible shoes
Review by: kobaz, 2012-02-28
My rock gym was selling these used, they were cheap, and only used once (I see why).

The rubber is incredibly stiff. Terrible smearing shoe, semi-okay edging shoe, terrible steep climbing shoe. There's no defined toe point, so good luck trying to stand on anything small.

I wanted a new pair of gym beater shoes, but I got my one use out of them.

If you want to climb harder than v1, don't get these shoes.
Sweet deal
Review by: saznercj, 2009-02-05
Found my pair of these shoes the ones in the picture actually the '05 model for 30 in the outlet store on the mad rock site. and at a size 15US i am limited. actually contemplating buying another pair to have while i can find em so cheap. shoes works fro
Good beginner shoe
Review by: rtwilli4, 2008-10-25
My first pair of shoes. Great for beginners. I got my street shoe size but I wear my street shoes pretty tight. They are comfortable but not too big. Nothing special, but they did hold up pretty well considering my n00b footwork. I still climb in them when I'm guiding, so I don't wear out my other shoes.
perfect beginner shoe
Review by: clamber, 2008-07-20
this was my second pair of climbing shoes and at the time I bought them I was doing very little climbing and knew very little about how to purchase climbing shoes. that changed about a year ago at which time I started climbing about 3 times/week. mainly indoors. although there was learning curve thrown in these shoes performed just fine for me at that time. as I got better(and subsequently my footwork), I gradually grew unimpressed with the MadRubber. keep in mind this was primarily indoors. I eventually had them resoled with C4 and that problem was solved. I've since bought a few pair of higher end shoes and use those outdoors but still stick with these on the indoors walls for the most part. they're a good shoe to tear up on artificial walls when you're learning footwork and/or training...save the rubber on the performance shoes.
I bought these in the same size as my street shoe. I could have gone down a full size because they have definitely stretched out. but with laces they still wrap up reasonably tight.
overall: very good beginner shoe or scrubs to train in
On My 2nd Pair...No Regrets
Review by: bmwman91, 2007-11-27
For the price, these are pretty hard to beat. While they may not have the durability or "precision" that higher end shoes do, they WORK. While many report that they are hard to stick to sandstone, as well as impossible to use on micro toe-holds or smears, I must report the opposite. My favorite bouldering spot is all sandstone, and mainly toe-work.

So far, I have been able to stick most all toe-holds with them, and smears work fairly well (pricier shoes have been superior in this area). However, for the $69 I paid at REI, it is hard to beat the deal. My first pair did wear out after a year of light/moderate use, but mostly because of a sharp toe-hold tearing a hole in the rubber.

The first pair was size 10.5US, which was initially comfy. They stretched, however, and made any serious edging quite hard. My new pair is size 10.0US, and while painful still, I anticipate excellent comfort/performance once they are broken in. In the end though, it is a case of personal taste and opinion as much as anything (like fillet mignon...everyone talks it up, and I cannot stomach the stuff! Gimme a juicy NY strip any day!).