Pontas Lace Up
Item Details
|
Reviews
(
2
)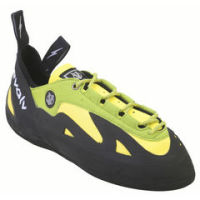 Manufacturer:
Evolv



This item may be available at:
Description
The Evolv Pontas Lace Up Climbing Shoe is the second installment in the Sharma Signature Series of shoes. Who else better to design a climbing shoe than one of the strongest, most well acclaimed climbers in the world. Based on the same last that Chris designed before (the Pontas Velcro) this one is stiffer and edgier with a step up in precision. Designed with a full mid sole and extra half mid sole for added support and stiffness while still offering a glove like fit. The Pontas lace-up has a higher toe rand with an extended Trax high friction rubber rand around the shoe offering excellent protection and added grip when toe hooking or scumming. With the speed lacing system, the Pontas is easy on and off, unlike other lace ups, and gives you quick sensitivity adjustments at your fingertips. *Stiffer and edgier than the other Pontas *Sharma Signature Series shoe *Full mid sole and extra half mid sole *Added support and stiffness for a glove like fit *Higher toe rand *Extended Trax high friction rubber rand *Added grip when toe hooking or scumming
2 Reviews
Quality
Review by: dlintz, 2008-08-13
An excellent shoe for vertical to slightly overhanging routes.

As mentioned before make sure you size them correctly, they will conform a little to your foot but they won't stretch. My street shoe size is 9.5, I went with size 10 in the Pontas and they're very snug...snug enough to relegate them to bouldering and single pitch stuff. These shoes fit my wide feet well although the toebox is a little narrow, this is part of the reason why I can't wear them for multipitch/all day stuff. The lacing system is quick and easy allowing for convenient removal between climbs. It also allows you to cinch these shoes down very tight.

As with all Evolv models construction is superb and the Trax rubber performs as well as anything out there. This model is fairly stiff making it an excellent edger and okay for smearing. The heel cup is a little baggy but much better than my other laceup models (Five Ten Newtons and pink Anasazis). With the laces cinched down fairly tight the Pontas heelhook pretty well.

Overall I'm pleased with this shoe. As for the smell...I haven't noticed anything unusual about these. I think it comes down to proper care (airing them out after climbing and not leaving them on for hours at a time).
great shoe
Review by: reflex, 2008-04-11
i went into evolv wanting the buy the pontas velcro but because i have a wide foot i ended up with the lace-ups in the past i havnt been a fan of of laces just because they take forever to take on and off(compared to velcro) but these are super easy to get on and off

the overall fit and feel is really, good sticky rubber, and moderate heal cup. be sure they are comfortable when you buy them they do not stretch out they seem to have some kind of special liner in the shoe that prevents it more then other evolv models (i had to go back and get mine stretched out)

and yes synthetic shoes smell but seriously there climbing shoes they all end up smelling bad