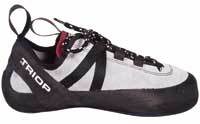 Manufacturer:
Triop



This item may be available at:
Description
Built for steep rock, the unlined Rap is an aggressive, anatomically lasted shoe with a pointed toe that loves to latch onto the smallest nubbins. The shoe's tongue is attached with stretchy Neoprene and, in concert with nylon lacing straps that elevate the arch, provides a tight yet comfortable fit. Like the Orca, the Rap needs another row of lacing. Pros: Form-fitting tongue. Excellent toe- grabbing. Cons: Heel pull-tabs sewn on inside. Needs more toe lacing.
1 Review
Shoes both for begginers and advanced climbers
Review by: noMoreMaster, 2007-03-21
I bought them in october and these are my first shoes. I cannot review them like advanced climbers as i have been climbing for about 6 months. However:

Shoes "find" any miniature steps perfectly. The rubber however tires fast and i presume i will lose it next year...

Comfortability is very important issue and anyone will find Rap in this matter briliant. Laces are designed to ensure superb grip to feet.

New models offer VIBRAM rubber and I hope they are as good as those.

The biggest disadvantage is that those shoes after some usage become too streched...