Spider
popular
Item Details
|
Reviews
(
11
)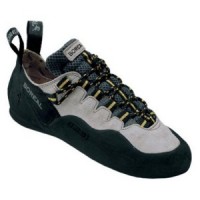 Manufacturer:
Boreal



This item may be available at:
Description
The SPIDER is manufactured with a revolutionary new injection molded process - the Integrated Rand System (IRS) in which all pieces - sole/rand/heel are joined and applied as one. The IRS conforms and contours to the foot as soon as you put it on - a result of it's 3 dimensional molding process - which provides an intimate fit and adherence without excessive lace tensioning. Half midsole has center cutaway to enhance edging and also smearing sensitivity. A versatile high performance shoe.
11 Reviews

Write your own Review


Read all 11 reviews
Great fitting shoe with lots of durability!
Review by: tnenonen, 2009-09-17
I bought the Boreal Spiders for my first climbing shoe. Because I have a slightly wider feet, the Spiders fit just perfect without being overly tight.

Also worth noting is the lace up system: if you run the shoelaces through all the lace hoops, you'll get a really supportive and snug fit, but the lace hoops do tend to wear out rather quickly in my opinion.

The single biggest drawback in my pair of shoes is the rubber itself: my pair is rather old, sproting the infamous Fusion 3 rubber compound. The great thing about that is the shoes will last a long, long time before wearing out, but on the downside the rubber doesn't stick all too well, so smearing is out of the question.

All in all, a very good shoe that will see you through many climbs and still is comfortable to wear. Bouldering hardmen who like to climb massively overhanging routes would be best to look elsewhere though.

I'll give three stars out of five because of the crappy Fusion 3 rubber (don't know if they have improved it on later models) and because the lacing system wears itself and the shoelaces out rather quickly.
Great shoe
Review by: dovyman, 2009-05-10
I got the lace-up version as my second climbing shoe, replacing a pair of Red Chili Sausalito's that I chewed up crack climbing. My feet run slightly on the wide side, so a lot of the shoes I tried on didn't fit very well, but these couldn't fit better if they were molded directly from my feet. These are good all-around shoes, compared to the Sausalito's they let you feel the rock much more, but still edge much better than a lot of other shoes I tried on. So far they seem pretty sturdy, I haven't taken them outside much though. Someone else mentioned problems with the lacing - I lace my shoes pretty tight and I haven't torn any holes. I also own the velcro version of these, and they have an identical fit.
Boreal Spider
Review by: skrabut, 2008-07-30
The sole is really stiff so you can easily put a lot of pressure on the front edge. The heel has this extra rigde which gives you the possibility to heelhook even on the tiniest holds. The rubber is really durable, I have used my last pair for over a year now, climbing 2/3 times a week. My first pair I retired after one year.
The shoe itself is really comfortable; you sometimes forget that you have them on. The front is a little wider than of most shoes. There is no stretch at all, so when buying them make sure they fit you well.
The only downside of this shoe is the lacing system, I have two torn lacing holes. Overall a really nice beginners shoe. Next pair will be FiveTen Prism


Boreal Spider
Review by: jimo, 2007-01-17
Great shoe out of the box, I'm a bit biased as I have always been a Boreal fan. Edging is awesome, smearing ok, but has allowd me to climb harder than when I was wearing the Ace. I thought they were too roomy when I first put them on (I did some bouldering on the back door to check them out last Christmas, my wife yelled at me...) but because of this dimple on the ball of the foot, as soon as you leave the ground they tend to tighten a bit, very nice for a long day at the craig.
The only downfall is the resole which eliminates the "dimple" formed in the injection molding process. The guys at Mt.Tools hooked me up with new FS Quattro sole plates and the Rubber room crafted the new rubber very well but... The shoe is much different than with the origional sole. I would not buy them again at the list price because of the resole situation, but if I found them for a great price, I'd reconsider.
Review
Review by: lonelyclimb, 2004-11-11
I was totally a sportiva man. I have used miuras, mistrals, cobras, mythos, also some fivetens and scarpas, but never Boreal shoes. Though some shoes was great for boudering, I am still trying to find the best pair of shoes...

Recently, I happened to know Boreal has developed new rubber, FS-quattro, the fourth generation Fusion rubber. I was very interested in the performance, so I ordered from boreal online store (go e-boreal.com!). The salesman was very good to reply my questions immediately and send me Spiders as soon as I ordered. The shoes have arrived only in three days from Spain with only $5 shipping cost!. Amazing!


The performance of Spiders is great for everything. You cannot expect toe power of miura since the slingshot rand does not push your feet; however, your feet feel more natural since the shape of the shoes is just like my foot.

And the rubber is, really sticky! It is much better than Fusion-3 and even better than Vibram rubbers. I was really satisfied.

I do recommend to order from their web site. You only need additional shipping cost $5 and the Spiders are priced as $119, not $133. Since every Boreal shoe is made precisely, you can order the size in their size conversion table for snug~tight fit.