Spire Climbing Shoes
popular
Item Details
|
Reviews
(
41
)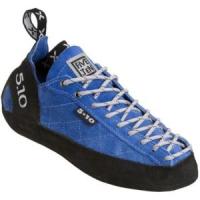 Manufacturer:
Five Ten



This item may be available at:
Description
The Five Ten Spire has been a best-selling climbing shoe for years thanks to its comfortable fit and excellent price. With bomber durability, the Spire survives the learning curve of beginning climbers footwork. These unlined shoes conform to your feet as they stretch about a half size, which is why they make a great choice for long days on the rock where comfort is a priority. Sticky Stealth C4 rubber provides plenty of friction for desperate smearing, and a stiff forefoot edges well.
41 Reviews

Write your own Review


Read all 41 reviews
Good and Comfy first shoe!
Review by: austinnokc, 2009-07-21
These shoes seem equally at home on plastic or rock. They are an intermediate shoe that is great for all sorts of little projects. They stretch a fairly well. (I have lop-sided wide feet My left needs .5 size bigger but I sized for my right. They have stretched to accomodate both feet now and feel like foot gloves)

I have climbed pockets, jugs, hand cracks (not good in tiny cracks), moderate bouldering overhangs, vertical, slabs, and just about any other terrain and they perform exceptionally well.

However As your climbing improves you will want to buy another pair of shoes that make the more technical routes less difficult. I am at that point now. Going to buy a new pair and send my spires to get resoled.( I am going to get them resoled with Onyxx Rubber)

Great Shoes for all around comfort and performance necessary for climbing arsenal.
Comfortable beginner shoes
Review by: dbourks, 2009-02-06
These shoes are very comfortable, however they lose their edge quickly and mine have a hole in them after only two months of use. They also stretch alot.
Review
Review by: 09kams, 2008-09-25
this was my first climbing shoe, i still use these for the gym, but if i'm out on real rock or doing a lot of heel hooks, i tend to use different shoes. they fit like a glove however, the sometimes still come off on some hooks. great shoes for new climber
Spire is a great shoe for beginners and beyond.
Review by: Colinhoglund, 2008-07-30
I bought some spires as my first shoe. Leather made them stretch to fit my wide feet nicely. Although not a shoe for pockets or high performance, is way more comfortable than my other pairs. I never take them off when I'm at the gym!
Great first pair
Review by: duncanlennon, 2007-12-05
These shoes have lasted almost two years of hard climbing and are only just getting to the point where they need a resole. They're great at smearing and cracks, alright at hooking, and merely decent at edging. They shouldn't be your only shoe for long, but they should be your first. Super durable and comfortable.