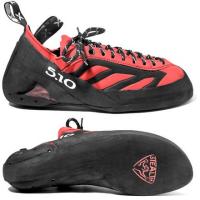 Manufacturer:
Five Ten



This item may be available at:
Description
DEP technology provides a squared-off inner toe edge and supportive footbeds that permit supreme edging ability. Strong synthetic nubuck uppers are fully lined for your comfort and stretch control. C4 Stealth high-performance climbing rubber is specially designed to be hard for edging without sacrificing friction. Two pull-on loops positioned in the correct spot at the heel allow the wearer to hold the heel cups open and easily pull the shoe on at the same time. Lace-up design fine-tunes the fit; two-piece, padded tongues slide past each other for additional padding across the top of the foot.
15 Reviews

Write your own Review


Read all 15 reviews
alright...
Review by: Alphaboth, 2008-04-07
I took them outside for the first time yesturday and was less than satisfied. The fit is a little off for my foot and i feel a little clumsy with them. It seems difficult to find the right way to make these shoes most effective when looking for tiny holds for your feet, which is not what you want to be doing on a tough sport rough. My advice would be to work them in the gym and boulder with them a bunch first just to find how they are most effective. They appear to have a great edging toe, but have yet to get them to work well.
Review
Review by: nptskin, 2005-08-19
thses shoes are great. i have used them mostly in the gym and on one trip to lincon woods for some real rock boldering. the sizes run on the small side and it takes awhile for the synthic miterial to break in.
Review
Review by: dr_fil_good, 2005-08-10
meh ... they're good I guess ... do the job but I'd like to be able to get a bit more grip when I'm smearing or just standing out on the wall. Hopeless in the gym when you're using them against the wall.

Other than that everything seems to be in order. I look forward to having a few more dollars to spend on some new shoes soon through.
Review
Review by: scottman13, 2005-08-09
I love em, as for the chafing at the ankle seams, it happened to me too, but i just wore socks with them until i broke them in (thin socks) and now, they are fine

Of course if youre looking for a trad shoe, id look elsewhere...

TIGHT EDGING!
Review
Review by: kid_klimbr, 2005-02-17
Being that I'm a vegetarian, it's nice to have synthetic shoes.. These shoes are the S@#t! Super sticky!! Love them and will continue to buy them... The price is a bit higher then I would like, but you get what you pay for!