Talon G2 Climbing Shoe
Item Details
|
Reviews
(
9
)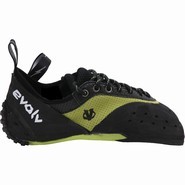 Manufacturer:
Evolv



This item may be available at:
Description
Sole: 4.2 mm TRAX® XT-5 high friction rubber

Rand: 2.2mm TRAX® duro-rand

Upper: Non-stretch Synthratek synthetic upper

Lining: Microfiber lining

Misole: MX-1 1mm sensitive teardrop half-length midsole

Sizes: 4 to 13 US men, including half sizes

THE ULTIMATE HIGH PERFORMANCE SHOE. We believe that the TALON is the best steep performance shoe in the world! With design feedback from our elite Team EVOLV and three years in the making, we perfected the TALON to fit like a glove in the toe, arch, heel making it the best down-turned toe shoe in the world. The TALON's asymmetric down-turned toe design lets you front-point and pull on tiny crystals and toe-in on pockets with surgical precision. While sensitive enough to feel the crystals, the non-stretch synthetic leather will give you a load of edging power for more than vertical faces. With a fully covered toe rand and heel, you'll experience power and ultra-secure fit when you lace these shoes up. This specialty shoe is absolute necessity for overhanging routes, steep boulder problems and for total domination of the competition.
9 Reviews

Write your own Review


Read all 9 reviews
Fantastic shoe
Review by: maverickjae, 2009-09-12
I've given the Talon a 4 star rating for one reason. They're a touch uncomfortable, being as aggressive as they are. Although, other then that, the talon is great.

Superb edging, even on the tiniest of holds, great for any steep climbs. The heel is awesome for anything intense although on occasion i switch to my solutions for obscure moves requiring greater surface area etc.

Where the heel, sort of, lets me down, the toe and amount of rubber on the shoe makes up for. any toe hook is made easier, I've even found myself performing difficult toe hooks instead of heel hooks.

Great shoe, definitely not for beginners
really good bouldering shoe
Review by: domnas, 2009-05-05
for small edges and heel hooks these things are the bomb. Buy them in the same (or a half size down) size as your street shoe. Mine fit perfectly. I hear that if you have a wide foot these aren't so great. I have a narrow foot and couldn't be happier with these shoes.
amazing shoe
Review by: watawilld, 2009-01-02
these are my second favorite shoes of all time, next to the miura vs. They are super soft which allows for precise footwork and grip. They have a bomber heal that won't come off even when wet with sweat. They also have the most important feature in a shoe, an amazing toe that works well on just about anything, even smearing (despite what others say) the toe is inhanced with ruber on the toe box making it even more powerful.
My first aggresive pair of shoes
Review by: Nate362, 2008-12-10
It was pure ectasy unless i was on a slab route or anything requiring heavy smearing... untill the rand rubber completely crapped out on me 3 months in... which consisted on Gym climbing 3 days a week and 2 trips to joshua tree. Now my shoes once beloved shoes are completely dusted D:
Great steep climbing shoe
Review by: eddieaks, 2008-07-20
Climbed with it less than 10days, so far work great for me on the steeply route. as others said, not for slab route where you will felt weird and uncomfortable stepping with this shoe. The shoe is very comfortable even got it ˝ size smaller, minimum air pocket on the heel, the only shoe so far that makes me feel secure with heel hook especially with lace tighten on. The rubber so far has not let me down yet, maybe too early to make conclusion.

Smearing = fair
Edging=poor
Steeply hold, especially pocket=excellent
Heel hook=excellent
Toe hook=not tested

after a month climb with it 2days perweek, the toe rand has worn out...seems the upper rubber really poor and soft.