Cobra Shoe
popular
Item Details
|
Reviews
(
35
)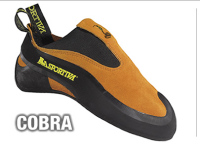 Manufacturer:
La Sportiva



This item may be available at:
Description
• Weight 370 grams , 38
The downturned toe is your first clue that this asymmetrical slipper is designed for performance. The Cobra offers excellent edging without compromising sensitivity. The .8mm Laspoflex midsole and slingshot-style rand put power over the inside edge and big toe, right where you want it.
-Slip-lasted construction.
-3.5mm Vibram XSV sole, with 1.8mm rand.
-Unlined suede leather upper.
-Two elastic loops give grips for pulling shoes on and off.
-Fits medium to wide feet best.
Taken from www.mec.ca
35 Reviews

Write your own Review


Read all 35 reviews
Cobrasssssss
Review by: rashumon, 2008-06-07
Just bought a pair as an all round shoe that's easy to slip on/off for indoor and i'm super impressed! here in the UK we have the new version of these with sticky Vibram XS Grip - i wonder why they stopped selling them in the US?

Sizing: My normal Sportiva size is 42 (street shoe is 45) which is super snug with my Solutions and Barracudas but for Cobra i went with 41.5! Yes they were very tight and slightly painful but not too bad, i was able to slip them on straight away and start bouldering. after a couple of hours they have already started stretching a little...

Fit: their shape is perfect for my foot (low volume wide'ish forefoot narrow heel). They feel painted on. Toes are nicely curled and the heel is super safe with no air pockets or hotspots. the nicest thing about these compared to the Miuras (which share the same basic shape with the Cobras) is that there are no inner stitches to rub against the skin which is a big problem i have with the Miuras! they really are amazingly comfortable and they aren't even broken-in yet. sweet!

Performance: I love the way I can smear in them (which is where my Solutions are lacking due to their curved sole) and yet I can still toe hook and pull on overhangs really well. Heel hooking is great as well - as safe and solid as with the Solutions!!! not even near to popping off once (and I love heel hooking so I use it a lot) not yet sure about edging power as I haven't yet done much micro stuff with them but I would expect them to be good but not as good as something stiffer like the Miura or 5.10 Galileo... One of their best features is their precision and sensitivity - this is so important for me in a rock shoe.

Over all: Cobras are now my new all round favourite - very sensitive, easy to take off/put on, pulls really well on overhangs, heel hooks like a super technical shoe, smears like a very flat shoe and is equally at useful on slab, vertical or crazy overhangs.... I used to have to carry around 2 or 3 pair of shoes now i can finally just chuck the Cobras in the rucksack and YAY, easy and light! oh and they are cheap and look cool too :-D
great slipper
Review by: jsprovach, 2007-04-15
i bought this for an easy on off shoe with the slipper design, so i went a little more agressive than usual with my undersizing. it took a while for my foot to adjust to the agressive asym shape in the toes but overall its worked well. the rubber is hard and has very little sensitivity which can be somewhat unnerving at times, but in exchange provides plenty of power and confidence once your foot is locked on an edge.
Cobra
Review by: ladybug1542, 2007-01-14
Hands down my favorite shoe of all time. It fits my foot really well. If somebody is crazy enough to get rid of theirs, hop on it!
best quality/price in a slipper?
Review by: ghisino, 2006-12-07
the shoe is apparently discontinued in the US but still produced and sold in europe.

It's been upgraded with the new XSGrip rubber, which is stickier and a lot softer than XSV. Overall this makes for a softer, more sensitive and even more comfortable shoe, but a little bit of edging power is lost.
Still maybe the best multipurpose slipper after many years, and for sure the best quality/price compromise on the european market.

Works better with strong feet, medium-to-wide, bigger big toes. It will stretch a lot, so downsize aggressively : get the tightest pair you can slip into...
Durable, decent, but painful
Review by: keinangst, 2006-11-21
I've worn this pair for two bouldering seasons. I like to climb a combination of overhangs and thin slabs, so I need something versatile. My second toe is the longest, so the fit had always been a little awkward. This was made worse when I smeared on a sit-start, heard a POP, and was left in a lot of pain for several weeks. The pain finally subsided after 8-9 months, to the point where I could finally climb again.

Yes, these shoes dislocated my big toe and hurt the surrounding tendons. I would be very careful with the fit, because too tight can get you into trouble. I've since moved on to Evolv after two pair of Sportivas, and I will never go back. THREE STARS assumes they don't mess up your toe ;)