Copperhead Climbing Shoe
Item Details
|
Reviews
(
2
)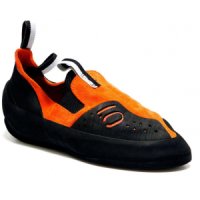 Manufacturer:
Five Ten



This item may be available at:
Description
The Five Ten Copperhead is designed with trad climbers in mind. The Copperhead is at home climbing cracks, big walls, multi-pitch routes, off-widths, and everything in between, just like a good trad climber. Offset, protected laces keep your laces intact and out of the way while playing in the cracks. The innovative lace design also allows you to wear the shoes unlaced on moderate climbs and laces when you need the extra control. The Copperhead features: Stealth Onyxx, the highest friction, most durable climbing rubber in the universe. Unline split grain leather upper Stealth toe cover Asym Side lacing Slingshot heel rand Triple pull tabs Padded tongue
2 Reviews
not all around crack shoe
Review by: dvw999, 2009-07-29
They are not an all-around crack shoe. Good for larger, maybe even off-width cracks. The toebox is not small enough to fit in the small stuff. The hidden laces should be on all lace-ups...they're great. It is probably a good all-around shoe.
good shoe
Review by: psprings, 2009-07-27
So far, I like this shoe. (ps- it's a LACE UP!)

First off, most 5.10 shoe toe shapes don't work for my feet (my second toe is as long as my big toe). However, this shoe provides a fit with no slop for my toes while allowing my toes to not be jammed up with their knuckles grinding through the top of the shoe.

For climbing, I'd say they do very well for trad climbing. Not as well for power-edging 5.11 and up, but just fine for easier stuff. The modified shape of the toebox gives you less power on your big toe... which is also the reason it makes jamming easier and less painful for thin-hand and smaller cracks.

I haven't found the offset laces on the instep side of the shoe to be a big difference one way or another.

Overall good shoe; would recommend it.