Force Climbing Shoe
Item Details
|
Reviews
(
1
)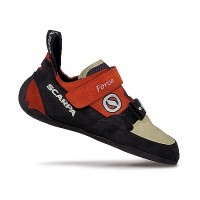 Manufacturer:
Scarpa



This item may be available at:
Description
The Scarpa Force Climbing Shoe combines all-around comfort with a precise and sensitive design to help you crush everything from boulder problems to crack climbs. A padded mesh tongue and suede footbed provide the ultimate in comfort, while the V-Tension system and dual hook-and-loop straps help focus power to the toe box. Scarpa used super-sticky Vibram XS Grip rubber for dependable friction on any rock type.
1 Review
Favorite Climbing Shoe To Date
Review by: dormantgenius, 2010-03-09
I've bounced around a few brands (5.10, La Sportiva and Scarpa), and fell in love with this shoe the instant I tried it on. The fit is significantly different than velcro shoes of other brands - different in a way that fits my foot perfectly. I wear a size 9.5 street shoe, and bought these in a 41 (USM 8). Unlike other velcro shoes, I'm not left with a lot of extra height/space in the toes. The fit is snug, but not uncomfortable (I couldn't wear them all day though - I do take them off between most climbs).

The Vibram XS rubber on these sticks like no business. The sole is stiff, allowing you to toe and edge on small features with ease. My confidence in my footwork increased greatly, which I hadn't even realized until I went back to my La Sportiva Nago's while the Force's were being resoled.

The only potential downside I could see to this shoe is that the fabric over the toes tends to get a little dirty and worn out. I drag my feet pretty badly, and the wear is showing. I've used a little super glue in a few places to make sure the rubber and fabric stay connected, and that is worked perfectly. But I beat on these shoes pretty hard, and wear is to be expected when you drag your feet like I do.

I've been pushing the Scarpa Force shoe for several months now, and if you're looking for a velcro shoe and haven't been happy with the standard 5.10 and La Sportiva models you get at most outdoor/climbing stores, try to find a way to check out the Forces. Like I said - it's the best shoe I've climbed in to date.