Mantra S
Item Details
|
Reviews
(
10
)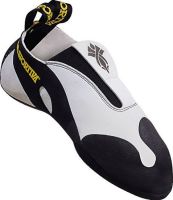 Manufacturer:
La Sportiva



This item may be available at:
Description
A minimalist's dream, the new Mantra S takes sensitivity and precision to new heights and drastically increases your capacity to really feel what is going on under your toes. The fully synthetic Lorica upper, the ingenious figure-eight slingshot rand, and the double randed toe box form a powerhouse fit that will supercharge your footwork. Highballers, gymmers, and bolt clippers rave over the ultra-sheer tactile sensation that lets them use their feet like hands. If your current climbing shoe feels like a ball and chain then the Mantra S could be the answer to your prayers.
Color: Sand
Upper: Lorica
Construction: Slip Lasted
Last: PD99
Lining: Unlined
Sole: 3.5mm XSV/1.5mm XSV figure-eight slingshot rand
Midsole: None
Insole: None
Weight: 10 oz.
Sizes: 32-44 (incl. half sizes)
10 Reviews

Write your own Review


Read all 10 reviews
what to say
Review by: i-like-jugs, 2008-07-09
these shoes are just amazing. they smear like butter and warm toast, they edge like the blade of a knife, and they have the power of the incredible hulk. honestly, all this comes bound up minimally in rubber that still provides the sensitivity of sun burnt skin. the only draw back i found is that they heel is about non-existent and will become baggy if the shoe is not bought small enough. this being said, you can buy the damn things painful as all hell and know that its ok because they stretch like stretch-arm-strong. the heel has not given me any trouble on heel hooks, although its a bit baggy its never released my foot onto the rock. they are downturned, not super aggressively, but enough to give anyone who craves the masochistic appeal of foot torture their fix. the toe is nicely powerful while at the same time conformist, so you can eventually have a flat shoe that will immediately down turn on request. no reason not to get these shoes if you are really getting into climbing, just stray away if you are a beginner are someone who climbs mostly vertical and slab, because that would just be wasting this shoe on something it wasnt meant for..............by the way, i wear a size 12 street shoe, and a size 10.5 in this shoe opened up to be loose after the break in period, which was a bit longer than normal, i have a 8.5 pair that i fit into now but am saving for another time.
Near-Perfection
Review by: brianp_is, 2008-06-27
The epitome of minimalistic shoes. Snug fit (fit them tight! street shoe - US 9.5, Mantra S - US 6.5) which conforms to your foot. Its like climbing with hands for feet. Not much heel, but still get very decent hooking. Have used it everywhere from Granite Quarries, Indoor gyms, Outdoor gyms, AND even Deepwater Solo! The glue does turn pink/purple when exposed to the saltwater though. Rubber is no-so-sticky (which was an adjustment from newbie shoes like Mad Rock) but you get used to it. Powerful edging, surprisingly strong toe hooking. And both pairs I bought were on sale at $99 AUD from the usual $225. Worth it, ANYTIME.
Review
Review by: ryu, 2006-04-25
A qualified 5. Very sensitive. Downsized aggressively (wear size US M9.5 street shoe, am using 39.5/US M7 Mantra S) but with the thin leather and sole (really ony a half-sole and a few strips of rubber that cross at the midsole and cover the heel) the shoes are elastic enough to conform to my foot like I dipped them in rubber- hard, not-very-sticky La Sportiva Vibram XSV rubber, that is. After a month (2-3 times a week bouldering, primarily indoors), they don't seem to have stretched out too much- a bit looser than when new (maybe 1/2 size), but still very comfortably snug, except at the high volume heel for me. Decent edging and reasonable smearing given the downturned profile. Heel hooking is pretty crappy given the sparse rubber coverage on the heel, but that's pretty inherent in the design of a very light, minimalistic shoe. Even with the roomy heel the overall fit is so snug that I don't feel as if they'll pop off during the occasional heel hook. The harder rubber is a more slippery (certainly on plastic) than Stealth or MadRock, but if you are used to Sportiva rubber it's no problem. A great shoe. For me, this shoe would be a unqualified 5 if it had Stealth, fit my heel a little more snugly, and had a bit more rubber coverage on the heel.
Review
Review by: theishofoz, 2005-03-30
No text provided
Review
Review by: mcernie, 2004-10-09
love 'em! the fit is amazing, more like a sock. i've had them for about 3 weeks, mostly gym climbing, though. they allow you to feel everything...great sensitivity. haven't stretched much, and don't really know if they will. i'll update later if that changes. another great shoe from lasport.