Mens Optimus Prime Climbing Shoe
Item Details
|
Reviews
(
2
)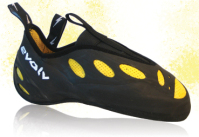 Manufacturer:
Evolv



This item may be available at:
Description
Free Shipping. Evolv Mens Optimus Prime Climbing Shoe Spring 2010 The Mens Optimus Prime Climbing Shoe by Evol represent breakthroughs in technology and performance. Designed by the great Chris Sharma, this versatile down cambered shoe is for front point edging and climbing vertical to overhangin climbs. It offers high performance in comfortable fit.FEATURES of the Mens Optimus Prime Climbing Shoe by Evol:Perforated upper provides brathability and elasticitySemi-symmetric toe box maximizing the edging areaWide and lower volume toe boxSPECIFICATIONS:PROFILE: Semi symmetrical down cambered CS1 lastSOLE: 4.2mm TRAX XT-5 high friction rubberRAND: 2.2mm TRAX duro-randUPPER: Perforated elastic Synthratek synthetic upperLINING: Cotton fiber lining in heel cup/toe boxMIDSOLE: MX-P 1mm half-length midsole

2 Reviews
Great Shoe DONT DOWNSIZE!!!
Review by: beenjammin, 2008-10-01
Ive been climbing with evolv shoes since i became a competitive climber and i decided that my first real aggressive shoe should be from a company that i trust.

I climbed forever in the evolv dementor or however you spell it and found that my size 11.5 fits almost perfectly after some painful moments in a 10.5. So i figured that this shoe would do the same.

Lets just say ive wor these for six weeks and no give!!!, but i still love these shoes even though wearing them for long periods of time hurts like HELL. That was my own stupidity though I agree with everyone else who ive talked to about these shoes they stick to every thing and the semi toe really does stick.

These shoes like all evolves start to stink but that shouldnt get you away from these great shoe but like i said dont downsize!!
The most aggressive shoe I own...
Review by: brijoel, 2008-07-22
Before I went and tried on a pair of the Optimus, I was skeptical of a shoe this aggressive not having the usual asymetric and pointed toe design I was used to. Granted, the toe on this shoe doesn't fit the smaller pockets the way some other shoes do. But, after climbing for a couple of weeks in them, I've found that they will grab, front-point, edge, and smear on every other feature imaginable.

The way the cambered last fits your feet, the stiffer synthetic material than Evolv normally uses, and having rand rubber all over the last means not only does the shoe have an agressive design, but it STAYS that way. There is almost no give in the design. Be careful how far you downsize with this shoe, otherwise it's gonna be very painful. I tried on both this shoe and the Prime version (velcro), and these have a bit more snug fit to them. Ie, they aren't going to bend at the ball of your foot anywhere near as much as the Primes.

Being 6'3 and 210, I'm soooo glad Chris and Evolv decided to go with a stiff midsole on this slipper. It really makes a huge difference in not only supporting hard edging on the tinier features, but it makes it easier to use your legs to pull, instead of your feet, on the steeper stuff.

The one thing that really makes this shoe stand out, in my opinion, is that unlike aggressive down turned toe shoes like the agro/predator/talon, you can still smear with this shoe when necessary.

As with all of my Evolv shoes, the fit and finish is great, and I expect these to hold up as hard as my others have from them.

This replaces my predators as my favorite super-aggressive, bouldering shoe.