Ninja - improved
Item Details
|
Reviews
(
2
)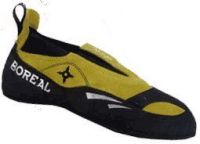 Manufacturer:
Boreal



This item may be available at:
Description
Upper: High quality Split leather with elastic tootwrap system. Rubber reinforcement on the toes.

Lining: unlined

Midsole: Half Texon midsole.

Sole: Boreal FS-QUATTRO. Thickness. 4 - 4.6 mm depending on size.

Slip lasted

Weight: 367gr/uk size 6 pair
2 Reviews
just wow
Review by: i-like-jugs, 2008-12-03
i realize that reviews by nature are subjective but bear in mind that i have no predisposition to hate boreal.

this is the worst piece of equipment i have ever owned, period. they took all of 30 minutes to render themselves useless (the lame singular pull tab design broke). literally. during those 30 minutes, my feet were painfully squished and jammed by the shoes, no not because they were too tight. there we hot spots abundant, and to be honest, jamming my feet with needles would have provided more comfort. the rubber was rubbish and provided the opportunity to learn new campus techniques since i was not even able to place my feet on jugs in the indoor gym. and yes, all 30 minutes of the life of these shoes was spent inside. the most textured of holds felt like glass to these shoes. horrible. customer service was pathetic and even went so far as to threaten me when i offered my opinion of these shoes (no harsh remarks or lack of politeness was used, even though it was desired to be used). the worst company and product ever, do not waste the time nor money.
Great shoes
Review by: chosaf, 2008-08-07
These are great shoes, the ruber is super adhesive, very flexible and helps a lot with friction. Also are very confortable and could be weared all day long. The new ruber on the top helps you so much with overhangings and roofs. Easy to get in and out. A must have product.