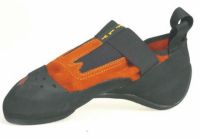 Manufacturer:
Bufo



This item may be available at:
Description
This high performance 'suction slipper' has a sensitive and precise toe. It features Asymmetric / Cambered design, a wide toe box with narrow heel, durable upper elastic vamp reinforcement and a feeling like nothing else! Great for rock, plastic and serious bouldering. Rock & Ice Magazine exclaimed in their 2001 shoe guide that The Fly performs as good and even better than models twice it's price!
2 Reviews
not too comfortable
Review by: i-like-jugs, 2009-04-13
I had been waiting a while to write a review of these shoes, just to make sure im not documenting something uninformed.

my street shoe is a size 12 (with a little space in the shoe), my moccasyms were size 10, and my katana's size 11.5 (44.5), with most of my shoes sized about 11.5. i bought these a 10.5 and they were pretty ridiculously painful and i feared i bought them too small. after a LONG break in period of about 2.5 weeks, i have a somewhat comfortable shoe. more on this later.

the performance.

compaired to the katana, the toe is less asymmetrical and seems to look more bulky, but only on the smallest foot holds have i had a problem. because of the bigger girth of the toe, pockets are somewhat problematic, but again only on the tiniest.

the edging is almost the same as the katana, suffering a little from the lack of sensitivity of the slipper because of the thicker rubber, you just dont wont to trust the shoe even though it wont slip.

the heel works fine, but ive had better (aka katana, kaos, etc)

the smearing is ok but not superb because of the thickness and decreased sensitivity of the shoe. the rubber is bufo's own from what i can tell, and it honestly isnt too bad. it really hasnt slipped on me, i havent complained for some other rubber, but i do notice that although the life of the rubber is long, the duration of the stickyness is short. there are some pretty glassy looking spots of rubber on my shoes in only about 2 months of regular (4-5 days a week) use.

the fit.

it hurts after a while. the shoe after being broken in feels good for a couple of really hard climbs but after 4-5 good burns, you want to burn these things. they have delayed hot spots that you dont feel until wearing the shoe for a little while, the worst spot being the smaller front toe portion near the pinky toe, then the heel when taking off the shoe. ive just never had hot spots that hurt this bad, maybe my foot isnt made for this shoe or vice versa.

overall: good investment for a performance shoe well under $100.
Review
Review by: rendog, 2004-04-11
I owned one of the first paris of these in canada a number of years a go. they lasted me a total of two years of steady climbing. And for only 70 bucks who's gonna complain? I went and got them again this year and still love them. they're not really the best for the biggining climber, but for someone who wants a second pair of shoes to complement thier "comfy" shoes" then these would be something to take into serious consideration. They're sized quite small However, so deffiately try before you buy! (i wear 9 street shoe...size 7.5 slipper size)