Previous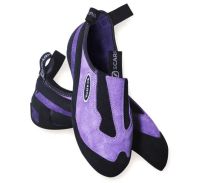 Description
The Vortex is a technical, yet comfortable slipper designed to perform on a variety of surfaces and angles. With a slightly downturned, asymmetrical toe, your feet have the ability to grab onto small features and pull as if they were talons. The Vortex's slightly wider-than-usual last increases the shoe's fit range, as well as its comfort quotient—and the elastic top provides an exacting fit. A soft midsole adds critical sensitivity on steep gym problems and sport routes, while a precision last gives you absolute control and unsurpassed power.
Performance slipper for sport, desert or gym
Sensitive midsole allows fit to stick and smear anywhere
Precision lasted for added control and power

6 Reviews

Write your own Review


Read all 6 reviews
Bring them back!!!
Review by: lithiummetalman, 2007-11-27
Best sensitive slipper ever!
2nd best shoe I've ever had.
Review by: joshy8200, 2007-03-15
These shoes are a close second to the Scarpa Dominators. I absolutely loved these shoes for climbing at the gym so that I could save the Dominators for redpointing outside. I think the Dominators and Vortex have nearly the same last...the heels are different, but they have similar symetry at the toes. The rubber is listed at Megabyte, but whatever it is my experience with it has been amazing. It's been very good to me, sticking where I need it and lasting much longer than could have been expected. I thrashed these shoes at the gym on a newly textured wall at least 2-3 days a week. They have held up for going on over a year, with a small hole starting to open at the big toe. Too bad you can't find these easily any more. I wish I could always have a pair in my quiver.
Review
Review by: punk_rocker333, 2006-02-03
I like this slipper. Bought it because you couldn't beat the price ($30 gearexpress.com). The rubber is very sticky and smears well, much better than my Montrail Zealots. The shoe runs small and have taken a long time to break in, which was very painful at the time. Now they aren't too uncomfortable but still have a tight aggressive fit. My biggest complaint is the heal is very wide which is incompatible with my AAA width foot. Heal hooking is almost out of the question, popped off my foot a couple times. Other than that the shoe performs well and is well worth its cheap price.
Review
Review by: tblackfo, 2005-10-14
I have been climbing for close to ten years and have owned all the slippers out there (anasazi slippers, moacasyms, and cobras), and these are just as good or better than anything else. I use them in the gym, and for steep problems outside. They are excellent, and you can find them on-line for 30 or forty bucks.
Review
Review by: southbayclimber, 2005-09-23
Not too bad....but they are prettty tight. I got them online for $30 and I wear size 10.5 street shoes, so i got a 43. After trying them on I would say a 44 would be better for a 10.5 unless you like them very tight.