Anasazi Southwest
popular
Item Details
|
Reviews
(
21
)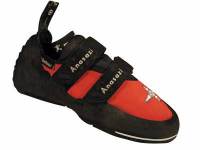 Manufacturer:
Five Ten



This item may be available at:
Description
FiveTen's new shoe in 2003

Lined synthetic Cowdura upper Stealth® C4 soles DEP (Dime Edge Platform) technology 2 piece out sole *Forefoot is Stealth® C4 *Heel is Stealth® HF for hooking Molded ribbed heel outsole Padded Velcro closure Sizes 2-13
21 Reviews

Write your own Review


Read all 21 reviews
Average shoes
Review by: hyhuu, 2008-01-08
The shoes edge very well and can smear too after broken-in. However, it is clunky, heavy and not sensitive. There is no noticeable differences in performance wearing them in my street shoe size or a half size bigger. The heel is however too stiff for a good fit. As a result, it applied uneven pressure on my heel and caused lot of pain and blisters. Even without the heel issue, I'd say that there are better shoes out there that can perform the same functions.
Review
Review by: bones, 2006-09-20
At first I hated them...too stiff and insensitive. Now that they're broken in, I love 'em. Great edging, good smearing, and great heel all in a relatively comfortable shoe. I actually sized them up a half size and can still edge on a dime, which is what they excel at the most.
Review
Review by: irishmonkey, 2006-03-21
ok all these 2 and 1 ratings are absolute crap.


i own a pair of these and a pair of moccs so heres the specs.

the southwest do lack some sensitivity though they will break in.
if you are only going to buy one shoe i wouldnt recomend this but it is an excellent second shoe.
overhangs - no, lack of sensitivity makes it very difficult feel when and where u need to apply pressure.
routes - definetley, the edging is incredible the they smear fine. the reason people say it doesnt is because due to the stiffness it is sometimes difficult to get the full sole flat on the fall when there not broken in. even then i never slipped and i was smearing with practically just the toe.
bouldering-selectivley incredible and even when not still works fine. your able to distribute more weight onto your feet allowing your hands to be used more effectivley.

great second shoe. edges amazing, smears fine, overhanging and roofs are a no but seriosly the edging makes up for it, its like a great secret weapon.
3/5 of the time it give you a amazingly huge advantage. 2/5 better off with something more sensitive like the moccs.

like i said great second shoe
Review
Review by: smt2003, 2005-07-24
They edge better than any other shoe I have ever seen. The only downside I can think of from personal experience would be the fact that the heel is really fat. I got these shoes a full shoe size too small, so they were really tight. But, almost everytime I heel-hooked, they would slip off. I recommend them if you are only doing hard crimpy sport routes.
Review
Review by: chezman, 2005-06-27
My first pair of shoes I bought a year and a half ago and I still have them. The rubber on the toes looks like they have been used but they aren't trashed. Absolutely love the edging, I can put my foot on the smoothest, rubber-coated hold indoors and it will stick. It's great outdoors too because you dont have to search for something to put your foot on. If it sticks out, you can stand on it. They don't stretch at all and they are really stiff. The rubber will wear fast if you are flailing your feet all over the place, but other than that it's a great shoe and i would highly recommend it