Anasazi Velcro
popular
Item Details
|
Reviews
(
67
)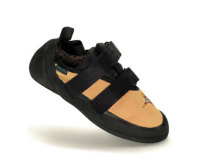 Manufacturer:
Five Ten



This item may be available at:
Description
The Velcro and Lace-up Anasazis are the top selling performance shoes in Europe. The Velcro offers more sensitivity for pulling on holds on steep rock--a powerful tool for extreme sport climbing.


Golden tan/Black
Lined Cowdura synthetic upper A strong breathable synthetic suede that doesn't stretch like leather. Shoe made from Cowdura will adjust to your foot, but will stretch very little.
Stealth C4 soles The world's highest performance climbing rubber. Hard for edging without sacrificing one iota of friction
Side exit heel seam
Dual pull-on loops
Asym toe The outside of the foot is very different than the inside of the foot. For example, the outside ankle bone is lower and farther back than the inside one, and the inside arch is huge compared to a smaller arch found further back on the outside of the foot. To make a show asymmetrical implies a willing sacrifice of fashion for function and proper fit.
Slingshot rand
Velcro closure
Padded split tongue
67 Reviews

Write your own Review


Read all 67 reviews
Good shoes but better options exist
Review by: greengoober, 2010-12-31
Like the subject says. These are great shoes. Unlike other reviews I have read, these are some of the most durable shoes I have ever climbed with. The edges are thick and kept their shape after a year of climbing. While they got a little eaten up, these shoes faired far better than softer soled shoes. Due to the density of the rubber, I found the Solutions and Miura VS to be better options. Additionally, I had issues with the heel. Initially they were fairly good but after standing on the heels while belaying, the heel is complete slop now. Most likely due to my own idiocy, but the overall design of the shoe does not hold to the shape of the heel that well. the toe box however is about as perfect as you can get.
Great For Wide Feet.
Review by: reaeper, 2010-10-09
Great shoes for wide feet, I have two pairs, an older model that I use for outdoors, and the newest model that I use for indoor.
Don't understand the hype with these.
Review by: jason, 2010-10-06
Tried them 8 years ago and they sucked, then tried them again recently because I heard they changed the heel.

Nope! heel still has too much volume and is baggy even when waaay downsized. No thank you 5.10.
Great, but...
Review by: william.alan.swanson, 2009-10-05
First off, these shoes are fantastic for edging. Plenty of support and a nice shape makes them perfect for super-thin & near-vertical routes. I sized them down one full size from my street shoe, and while they didn't really stretch they did change shape just a little to mold to my feet (especially in the front above the toe knuckles). The heel cup is great, the Onyxx rubber is great, the velcro straps give enough adjustment without making the shoes a huge pain in the ass to put on or remove. But after using them for about 4 months, I've noticed that while the rubber on the sole is holding up very well, some of the rubber on the toe rand is pulling away from the upper and some of the stitching near the heel is starting to pull out. Yeah, I sized them a little tight, but this is a performance shoe and there are certainly folks out there that are buying smaller than me. While my footwork isn't exactly on par with John Bachar's, I'm not a hack and I don't think the questionable durability is because of that. Like I said, the sole is still in great shape.

Pros:
Great edging, great support, great rubber, and they look cool. Reasonably comfortable, too.

Cons:
Not as durable as I would like.

Overall, this is a great shoe that I would recommend for anybody who wants precision for technical footwork. I'm not pleased with the durability, but I'm in love with the way the Anasazis climb and will keep resoling these shoes until the upper falls apart.
Good Shoe.
Review by: austinnokc, 2009-08-03
I have only had them on plastic so far. To hot to climb outside in Oklahoma. I am ready to get them on Oklahoma Granite.

Five Ten says that they should stretch out 1/4 size through use.

So far at the silo gym that I climb at (Rocktown in Oklahoma City) all of their natural pockets that are hammered out of the concrete. The shoes hold them well. I haven't got the best smearing performance so far, but we will see what a full break-in brings.

The Stealth Onyxx Rubber feels a lot firmer than the Stealth C-4 rubber.

I also own the 5.10 Spires.
My spire's are an 11 and are comfortable for all day wear. I purchased size 11 Anasazi VCS They are considerably tighter in the toe-box and can only go 1-2 climbs with out taking them off.

Overall they are an excellent second shoe to have when more performance is needed.