Coyote VCS
Item Details
|
Reviews
(
2
)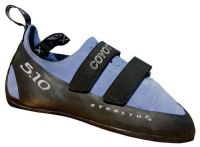 Manufacturer:
Five Ten



This item may be available at:
Description
The Coyote is an all-leather shoe with Stealth C4 rubber. After spending the last year in R&D, we guarantee there is nothing better for the price than this shoe. The Coyote has a soft, flexible midsole which is designed to excel on plastic.
* Blue
* Double pull-on loops
* Stealth C4 Soles
* Unlined leather upper
2 Reviews
Very Impressed!
Review by: gripster, 2007-08-10
I just got these shoes, and I am very pleased! These shoes are comfy, and the edge incredibly well! At first I had planned on using these as dedicated gym shoes, but after trying them out I realized that these shoes will be perfect for routes!

I am used to climbing in Anasazis, and more recently I have been climbing in Galileos, both shoes are top notch, especially for bouldering. The Coyotes are not quite as stiff as these shoes, but they are far more comfortable! I kept my shoes on for an entire training session last night at the gym, a first for me! If you are a climber looking for shoes in this price range, you will absolutely not find a better shoe! I have climbed in a good variety of shoes in this range, especially Mad Rock, and there is simply no comparisson, these shoes are better in every regard!
Good all rounder
Review by: ClusterFock, 2007-08-01
I got this shoe as my first shoe. I've been using it for both indoor climbing (boulder and normal lead) and outdoor bouldering and deepwater soloing. The toe is perfectly designed for getting good holds on cracks and small lips in the rock. The edges are strong enough to stick to even the smallest of holds, but not so stiff that the shoe is uncomfortable.
I recommend this shoe if you're a beginner and you're not 100% sure what type of climbing you're going to do the most. It would also make a great backup shoe.
Oh...and they're fairly cheap.