Coyote VCS 2 Climbing Shoe
Item Details
|
Reviews
(
2
)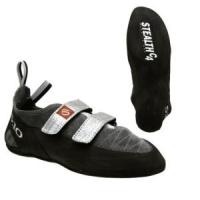 Manufacturer:
Five Ten



This item may be available at:
Description
With a relaxed fit, a reasonable price tag, and super-sticky Stealth C4 rubber, the Five Ten Coyote VCS 2 Climbing Shoe makes a great first shoe or addition to your quiver. The unlined leather upper and hook-and-loop closure give you a comfy, all-day fit. Whether youre pulling on plastic or edging up a techy slab, the Coyote VCS 2 lets you focus on your climbing instead of intense foot pain.
2 Reviews
not perfect, but just right.
Review by: pbmurphy, 2010-01-19
Started climbing seriously at a local gym, bought these a few months ago and have sessioned 8-10 times in them. Nothing besides rental shoes to really compare them to, so I'll just give my initial thoughts.

Fit was a challenge, esp. trying to buy online (bad idea) Street size is a 9-9.5 (puma, nike) so I tried a 9 thinking it would be a bit large but comfortable. 9's hurt so badly in the toes I had to step up to 9.5. Shoes stretched a good bit, and are just now getting comfy. Odd that I went above my street size, but there you have it.

closure is secure and comfy, but lower strap is annoyingly long. shoes are glove-like, very responsive, comfortable but not dreamy. Stealth C4 hooks up fairly well, but a bit hard for my taste. I think as a beginner I wanted a tad more sensitivity. Disappointed with flex issues. I could do more a mush stiffer platform overall, but especially in the toebox. Seems to be forcing my feet into shape, however.

smearing is so-so, edging is pretty awesome. toe is just pointed enough to lock into finger holes and small divots without feeling like an overgrown nail. not too much material around the heel, so be careful about pounding that area. it'll hurt.

I got them on sale for around $45, so for that price I'm very pleased with them. Perfect for all I can do at this point (<5.9)
Great 1st Shoe!
Review by: leadfarmer, 2009-07-14
I bought the VCS 2 a few months ago after getting into climbing and they have been great for me. I wear a 10.5 in a street shoe and I ended up buying a size 9 after trying on a few pairs at the Five Ten outlet in Riverside. I initially thought that I might have bought them too small, but after my first day of climbing in them in a gym I knew that I had found the right aggressive fit. They edge, point, and smear very well and they have enough of an aggressive downturn to allow me to stick holds that make my friends' slip. The velcro closure needs to be adjusted well for the heel to fit correctly, but the straps make it easy to slip them off while resting. A great first buy!