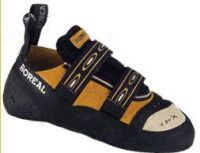 Manufacturer:
Boreal



This item may be available at:
Description
Incredible fit is supportive and bonds the shoe to foot as if one. Surgically precise performance.

Upper:High quality split leather with reinforced double velcro closure. Integrated padded mesh tongue for comfort. Rubber reinforcement across the toes.

Lining: unlined

Midsole: half midsole

Sliplasted

Weight size 6 uk: 478gr/pair
2 Reviews
My best
Review by: Ofe, 2012-02-21
After using 5-10 shoes some years i just love using this. The heel fits me much better because it is not so dep. The rubber and toe is perfect!
Review
Review by: rallen, 2005-07-14
Greatest climbing shoe ever? No-But damn close. The quality of the shoe is awesome, the molded fit is awesome, and the rubber - Look out Five.Ten. The toe box of the shoe is so precise, I believe you could put your eye out with the thing. It is an edging machine, but lacks a little sensitivity. The sole, if looked at from the side, almost looks like a flat lasted shoe (not radically turned down), thus it actually smears fairly well for a perfomance shoe, but the divot under the ball of the foot molds the inner foot in a manner that it hooks like crazy.
The only gripe I have with the shoe is the heel does not fit really well, but it is not bad. This shoe is a machine, and a work of art. Size: I have high volume feet and wear a 10.5 street. I bought a pair of 10.5 UK and they fit very tight with good toe curl.