Fiveten Anasazi V2 VCS
Item Details
|
Reviews
(
1
)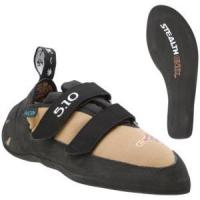 Manufacturer:
Five Ten



This item may be available at:
Description
Five Ten has upgraded the incredibly popular Anasazi VCS with Stealth Onyxx Rubber and a close-fitting heel to reveal the better-then-ever Anasazi V2 Climbing Shoe. Apparently making a shoe that climbs 5.15, V15, and countless cutting-edge sport climbs and boulder problems isn't enough for Five Ten. The Anasazi V2 blurs the lines between a stiff edging shoe and a soft smearing shoe to give you technical performance on every foothold of your project.

1 Review
Great shoe for people with wide feet
Review by: dkerr787, 2008-02-03
My biggest problem with climbing shoes is that my feet are short and wide. I originally wanted a pair of Katanas, but they were too narrow for me so I gave these a shot. I have to say I do not regret buying them. The fit is perfect my toes are curled and it is wide enough for my feet. The rubber is insanely grippy, in the gym I can put my whole body weight on the smallest foot chips that I could find and I was still on the wall. And they last alot, I would normally go through shoes every month or 2 months, Ive had these for 5 months now and I think I can get another 2 to 3 months out of them.I would recomend this shoe for intermediate to advanced climbers. I loved the 5.10 rubber so much that I ordered a pair of Dragons, and I cant wait to get them. One more thing these shoes are lined so they will not strech, they might give a little bit but it is just enough to take the form of your feet. So you do not have to worry about buying 1 to 2 sizes too small for the perfect fit, how they fit outside of the box is how they are going to fit for the rest of the time that you own the shoe.