Frenzy Velcro
Item Details
|
Reviews
(
7
)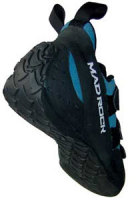 Manufacturer:
Mad Rock



This item may be available at:
Description
The Frenzy series (along with the Mad Rock Loco) are also the first rock shoes to utilize X-Static fibers in the lining. Made from silver, X-Static is an innovative antimicrobial material (translation: it keeps your shoes from stinking) that also serves to distribute temperature evenly (meaning no more hot or cold spots on your feet). This truly is Mad science at work.
7 Reviews

Write your own Review


Read all 7 reviews
Comfy shoes
Review by: Borealis, 2007-09-19
I went to the Mad Rock factory not intending to buy anything. After trying on a few tight climbing shoes, I put on a pair of Frenzy EZs and i ended up buying them. They are super comfortable. I use them for trad climbing and the gym. I dont feel comfortable trusting Mad Rock rubber on face climbing outdoors, but you can still jam them in cracks quite well.
Review
Review by: bazirker, 2005-08-26
I got these about a month ago, and they seem to be holding up alright. I sized them half a size below my street shoe size. Pros: They're about as comfy as a climbing shoe can possibly be, they look kinda cool, they're good for outdoor, low grade bouldering because of the well-padded footbed. I can stand around in these all day without even wanting to take them off; they'd probably make great all-day trad shoes. Cons: They don't climb well on hard stuff. They're very structured shoes so they edge ok, but they aren't response. In the gym, you can give it up trying to stand on small jibs with these. Once you get in the V2/3 range, you're gonna notice these shoes becoming a serious limiting factor. Bottom line: I like these shoes a lot for their comfort. They're great for relaxed bouldering sessions or leisure climbing. But if you need a shoe that's gonna kick some ass, leave these at home, cause this shoe lacks sensitivity and is super mellow.
Review
Review by: skinner, 2005-06-23
I had walked into the local climbing shop to pick up a pair of rock shoes I had ordered. This was the second pair in 2 months. I was tired of being in pain and was determined to find a shoe that I could climb in all day without my feet being in excruciating pain while climbing and for hours afterwards. I pulled on my new "Frenzy's" and walked over to the climbing wall and traversed on some small footholds. I dropped off the wall and joined in a conversation about a route on one of the local mountains. After 20 minutes or so, I said goodbye to all the guys in the shop and proceeded to walk out.. with my Frenzy's on!

I realized I was still wearing my rock shoes only after I had already left the store. When I returned to retrieve the street shoes I had left behind, I was greeted with laughter and the owner commenting "that comfortable huh?"

He was absolutely right. Finally after years of searching, trying, buying, and giving away shoes that had only been used a few times, I found a pair of climbing shoes that are every bit as comfortable as my running shoes. I proved this on the last 2 climbs, never once having to loosen, or take them off to give my feet relief. I am not even conscious of them anymore. Oh and.. they stick like glue too!!

Whoever said that climbing shoes have to hurt if they fit right, never tried a pair of Frenzy's
Review
Review by: bandidopeco, 2005-06-06
These shoes are for people like mysely who have wide feet. They are good for all day crack climbing and are decent edgers however they don't smear particularly well, as is normal for board lasted shoes. The one flaw in their constuction are the links you run the velcro through. The tend to shift out of place when the velcro is pulled tight. Overall I'd say they're a good shoe for the price.
Review
Review by: onbelay_osu, 2004-09-20
mad rock has yet again put out a shoe that sucks... low quality rubber, shotty smearing, can't edge on a ledge, do not waste your time or money on any mad rock products!