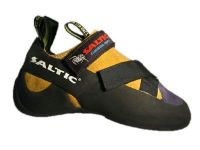 Manufacturer:
Saltic



This item may be available at:
Description
This shoe is all about power. It's ideal for bouldering and sport climbing. The midsole is thin, making it ideal for small edges. The velcro opening system allows for easy on/off and a snug fit.
Material: Leather
Lining: Cambrelle
Sole: Saltic Extasy 3.5mm
Last: Slip Lasted

3 Reviews
where can one find them
Review by: Jturner12, 2010-07-28
Saltics were some of the most comfortable and best fit that I have use and unfortunately I haven't been able to find them in any where.
Does the job well
Review by: omegaprime, 2007-03-29
6th shoe. Used it for about 5 months before burning a hole in it.
Good points: great for edging, nice deep heel.
Bad points: Downturned design makes it a bit difficult to smear effectively.

Generally a good shoe. Would have gotten another pair, but they didn't have the size I want.
Review
Review by: tedb, 2005-10-17
No text provided