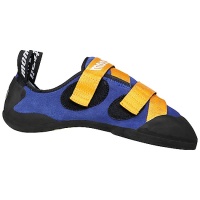 Manufacturer:
Montrail



This item may be available at:
Description
Montrail: The Gymbo Rock Shoe by Montrail is an exceptionally well-made and great-fitting shoe for entry-level climbers, gym rentals, demos, and training programs. The all-leather construction and simple strap closure make it easy to put on and adjust. This excellent performer for easy to moderate climbing was designed specifically for a diverse population. 4 mm Gryptonite sole with 1 mm texon midsole Unlined leather upper with a simple overlapping tongue construction Materials: Upper- Unlined leather Midsole- 1 mm texon Outsole- 4 mm Gryptonite rubber Rand- 2 mm Gryptonite rubber Weight: 7 oz/213 g
3 Reviews
Junk
Review by: rogue10186, 2007-05-06
I wore these shoes for literally two weeks of climbing at the gym 3 days a week before they absolutely fell apart, both shoes developed huge tears on the outside between where the vel latches were. Probably bad footwork on my part, but still should've held up longer. I got lucky and the store I bought them from let me return them. However, three of my friends have used them have used them with similarly poor results.
Review
Review by: rock_pirate, 2006-05-22
These were my first pair of climbing shoes. When I first got them their performance was great, they were an easy on and off shoe, and the sticky rubber was excelent. After a few weeks I noticed a defect in the straps of the shoes and sent them back to montrail where they were replaced. My second pair was fine until the metal ring actually broke on the site. The once great rubber is completely softened as much as possible its like playdough. On the plus side they never blew out and now that they are crapy for edging it is forcing me to stregnthen my foot muscles.
Review
Review by: karma, 2006-05-18
My feet are oddly shaped and sized so finding a pair of shoes that actually fit is a challenge. A few months ago I bought a pair of these from a local retailer. Living in Dallas, TX does not give me much access to a variety of shoes. After trying on all the Sportiva, Evolve, 5.10 and Madrock models that were available... these actually fit my feet very well.

Honestly, they worked great. They are basic gym shoes and the comfort level was great. I was no longer edging on my pinkie toes or blackening my toe nails. After a few weeks, however, a seam in the heel cup ripped open due to faulty stitching. One phone call and Montrail kindly replaced them free of charge. Awesome.

My second pair lasted exactly 3 days of gym climbing, after which one of the metal buckles for the velcro strap snapped in half when I was putting them on for a climb.

So, the first shoe I have found that actually fit my foot has now broken. Twice. So much for "Made in China" quality manufacturing. They're sending me a pair of Index's (for an additional $10 charge...) and I have already ordered a pair of Acopa Chameleons after talking at length with Mr. Bachar about my various fitment issues.

It is a good basic shoe for the gym that also worked well on limestone, but quality is a real issue.