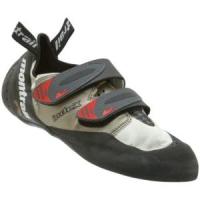 Manufacturer:
Montrail



This item may be available at:
Description
The Montrail Index Climbing Shoes unlined synthetic upper gives you precision feel on the rock without the two-sizes of stretch that you get from all-leather shoes. Two quick straps, and youre in and on your way to sending your next project. If that project happens to be a ten-pitch route, then youll be stoked on the CTX foam heel. You know how your other climbing shoes rub your Achilles Tendon raw? Well, these shoes dont do that. Oh yeah. Montrail also added ultra-sticky Gryptonite rubber to keep you glued to the dime edges. Hey, comfortable shoes dont do much good if they climb like garbage.
2 Reviews
Decent shoe...
Review by: MKeech, 2009-06-26
Fitting the shoe is awesome, toss it in the oven and slip it on and you are done breaking them in. The shoe didnt last long at all, the rubber blows out quick along with the seams of the shoe.
Its a good shoe...but....
Review by: playouts1de, 2006-12-07
I have mixed feelings about this shoe. The CTX in the toe and heel are wonderfull. A few minuits in the oven and you have a few weeks of breaking in done with. The synthetic upper keeps the shoe from stretching much at all, allowing the toes to stay perfectly knuckled for the life of the shoe. BUT, that being said, the shoe doesnt last long, or atleast the velcro doesnt. My velcro was flapping in the wind in just around 6 months. As soon as it started failing on route I sent them in on warranty. So far, customer service has been kind. One other gripe I have is with the rubber. It peels rather quickly, but that may just be my climbing style. All things considered, if the velcro were better it would be a GREAT all day shoe, impressive for something that knuckled IMO.