Katana Velcro Climbing Shoe
popular
Item Details
|
Reviews
(
66
)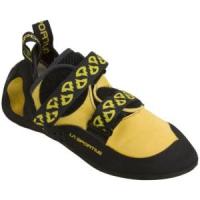 Manufacturer:
La Sportiva



This item may be available at:
Description
The Katana is a high quality velcro climbing shoe. It is lined, and has fairly good vibram rubber (3.5mm). It edges and smears very well. The toe is also very powerful and the heel is compact. The velcro design is good, it tightens well easily. I really like every aspect except for I think stealth rubber would be more sticky, I don't think the difference is very signifigant though.
66 Reviews

Write your own Review


Read all 66 reviews
buying another pair
Review by: borneo4x4, 2012-01-15
My home crag (Batman Wall - Borneo) requires a lot of upper body strength with not much emphasis on foot work. Then came the rock trip to Chiang Mai, Thailand- the Crazy Horse Butress where the limestone is crimpy with little hooks, nooks, and crannies for footholds. These shoes suddenly came into their own as I learned to use my feet better. But alas, 10 days of climbing saw that I used up all the rubber on the edges and now I need a resole. My Katanas are about 8 months old. Yes, I am buying another pair while I send these present ones to be re-soled. BTW, my street shoes are 44 and my Katanas are 42.5!
Excellent
Review by: ACJ, 2009-03-17
This shoe held it's size and performed very well. The only downside to it was that the rubber wasn't very sticky when I first got it and it wore out rather quickly (about 30 days of bouldering/route climbing). I would definitely recommend it and will be resoling the pair I have. I wear size 39 in Miura lace-up, Miura VS, Katana, and size 8 in Evolve Pontas.
the best shoe ive ever worn
Review by: i-like-jugs, 2008-12-08
the lowdown: there are a lot of people professing to buy this shoe certain sizes smaller and i bought them a size 11 from my street shoe size 12. that being said, i like my street shoes with a little room so i would recommend going a half size smaller with these shoes at the most. they are not loose on my foot, they fit perfectly, and i have done many a heel-hook intensive route in them to prove it to myself that they are not loose. my feet felt comfortable in these shoes right out of the box.

the performance: i was hesitant to comment on this until i had given the shoes a chance to prove themselves. the have been tested on glassy slab where feet are the most critical, and they have also been tested on tiny feet overhung projects, as well as cave problems.

first and foremost: the edging. by far the best edging of any shoe i have worn (which my evolve kaos had big promotion as the best edging shoes on the market). i was hesitant on route to make a fairly easy move that required i only place my right foot on a slightly larger than credit card hold with no left foot. i just didnt want to make this foot placement. i did and realized through the whole movement that i felt solid. good stuff.

next the smearing. i hear a lot of talk about how these shoes are the pits when it comes to smearing, and honestly i kind of feel that whoever is saying this just doesnt know how to smear. they smear like cream cheese on bagels, they never have slipped on me, and i have put them to the test on slopey slabs.

the toe. sharp and pointy. pockets and eyeballs beware. this toe works amazing for any troublesome area, or small dot you need to place your foot.

the sensitivity. being that these shoes are velcro and not slippers (my last pair of shoes were the mocs) i felt that they would be lacking in this department, and honestly i thought that the stiffness of the shoes was going to be large factor because i really desire sensitive shoes. i was completely wrong, these shoes are about as sensitive if not more than my slippers were. i have not yet found a moment where i wish these were softer.

the heel. its great, nothing less.

the closure. the velcro is great, and whats even cooler is the ability to specify where you want the straps for added security.

great shoes, and the price was $130 but worth every penny.

p.s. i would not buy these shoes if i were a beginner. they are too soft and the foot work required to use these shoes needs to be refined.
Good for face, won't last in cracks
Review by: radioface, 2008-12-08
It has been well established that these work quite well for edging, but the buckles for the velcro will not last if you climb a lot of hand and fist cracks. This may seem obvious, but I've heard people recommending these for crack climbing. Even in thin cracks, you'd be better served with La Sportiva Mythos, Five-Ten Moccasyms, or Evolv Raves. If you're mostly into bouldering or face climbing, these shoes may be what you're looking for.
Get them thight!
Review by: ghisino, 2008-10-31
Nice "neutral" and versatile shoe for mid to wide feet, ideally suited for those who have the big toe as long as the 2nd or slightly longer.

got my first pair after moving close to fontainebleau, since its one of the few shoes on the market who fit my heel decently (I have a narrow and low heel compared to my wide fat forefoot). At the same time I was looking for edging performance : a lot of mid-grade problems here need a shoe that does well on sharp micro-crimpers called "grattons".
Third criterium of choice was comfort : might sound strange but I like a more comfortable shoe for bouldering than for rope climbing - comfortable in the sense of being berable for several minutes albeit taken crazy small.

These felt very precise on some test footholds in the shop, and really helping the foot-they transfer quite a lot of pressure from your toes to under the arch, even if they are not an absolutely stiff shoe.

heel precision is another big plus, if you fill it up well : good rubber, stiff, very precise on small features, not slipping from your foot.

Comfort is high as expected : they are not far from a "natural" foot shape, so they don't put a lot of pressure on fingernails and such.

biggest raccomendation, take em really small.
A size that feels "right" in the shop turns out to be a gym or alpine-climb shoe after 4 or 5 sessions, and you will soon get a second, smaller pair.
A size that you have trouble getting in when new, will soon stretch in a nice way to the point that you can easily stand them for 20 minutes or bouldering or a 30-meters pitch, and at the same time are very stable on forefoot and heel. Just take time to climb some easy stuff or walk in them at home.
Heat and humidity accelerate the stretch a lot, so gym climbing will help, as well as putting them on just after getting out of a warm shower.

As others said they stretch in volume but not lenghtwise : expect a more aggressive foot position when broken in than when new, with your toes slightly scrunched instead of flat.
It is really nice for bouldering or sport climbing, maybe less for finger cracks.

Also expect them to become quite softer than in the beginning-nothing bad or extreme if sized correctly, just don't be scared that you won't be able to smear with them.

only downside is some durability issues, it is fairly easy to damage whatever part of the shoe you use repeatedely (trying the same heelhook or toehook move over and over is a typical case). Not a shoe that will last forever.