Maniac Climbing Shoe
Item Details
|
Reviews
(
3
)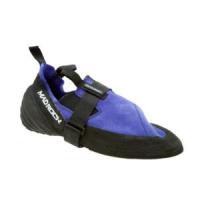 Manufacturer:
Mad Rock



This item may be available at:
Description
This shoe is the country boy of climbing. Decisive, simple, and straight up functional like your pocketknife or duct tape. For those who already understand (or already get the point), put down the catalog and go to the climbing store. Now for the pimple-faced kid in the back, school is in session. What do you get when you combine the strength of a pro-wrestler, the vision of Ghandi, and the grace of a gazelle? The Maniac! Based on tried and true designs transmogrified, this shoe tears up the crag and puts climbers where they want to be…back at the car before dark for once. Cinderella and The Prince never saw this one coming!
3 Reviews
THE gym shoe
Review by: luker1, 2009-06-18
these shoes rock for the gym and bouldering outside. easy on and easy off. edge on anything and the strap makes sure that those heals stay where you tell them. very worth the purchase.
i give it a....
Review by: Clipmedia, 2009-05-25
I gave it a 4 just because this shoe brings back memories. It was my first shoe and i won my first comp with it (i was in begginer category) so it's a great starter shoe but it will wear out and it's toe will start to loose it's general grip that it once had. now i've moved on to bigger and better things like solutions, moccysyms*, and dragons (jet7's to come soon =) but i highly recommend this shoe as a starter and it's cheap too.
Review
Review by: litwinm, 2006-06-12
Feels like the the Flash sans straps. buy it fairly tight in the begining and it will stretch to fit, remember that it has elastic and will stretch a lot. they lack the support of a strap on shoe, but also the sensitivity of other slippers. like all madrock shoes, the rubber is sticky at first, but it wears down quick. the heel cup is somewhat unusual for a slipper. one would think that they could heel hook well with it, but even with the gimicky strap the heel pops off easily. if you're looking for a very cheap gym or training shoe, this will do the trick, if you want a really solid slipper go for the slightly more expensive Five Ten Moccasym