Mens Feroce Climbing Shoe
Item Details
|
Reviews
(
3
)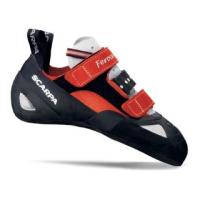 Manufacturer:
Scarpa



This item may be available at:
Description
Scarpa Mens Feroce Climbing Shoe Spring 2009 The Feroce Boot by Scarpa is designed for high performance smearing/steeps/pockets/thin cracks precision and power Features: New low toe-profile last can smear, pull on pockets, and fit into cracks 3 power straps for a perfect fit Full-length outsole provides increased arch support New high-performance toe-scumming toe cap Heel hook-arama with the rubber-covered heel Upper: Suede/Lorica Closure: 3 power straps Sole: Vibram XS Grip 3.5mmScarpa Product WarrantySCARPA products are covered by a 1 year limited warranty from the original date of purchase. This warranty covers defects in materials and workmanship. Damage that is due to normal use and wear, abuse or accidents is not covered by this warranty. Products that have been resoled or otherwise modified are excluded from this warranty. Fit is not covered by this warranty. Except as otherwise specified above. SCARPA MAKES NO WARRANTY OF ANY KIND, EXPRESSED OR IMPLIED, INCLUDING WITHOUT LIMITATION ANY WARRANTY OF MERCHANTABILITY OR FITNESS FOR A PARTICULAR PURPOSE, OR ANY WARRANTY AS TO THE DESIGN CONDITION OR QUALITY OF MATERIALS AND WORKMANSHIP TO THE PURCHASER OF THE GOODS PURCHASED HEREBY OR ANY OTHER PERSON WHATSOEVER.SCARPA North America, Inc. reserves the right to make all warranty determinations which may include but are not limited to repair, replacement or credit for the product. If it is determined that there is no warranty issue with the returned product, the product will be returned to the dealer with a note of explanation.We ask that dealers are our first line of service in the warranty evaluation process, and prefer that all consumer warranty returns be handled through an authorized SCARPA dealer.
3 Reviews
Amazing!
Review by: A-Bowl, 2010-05-23
Maybe I fit these shoes a little looser than Freeskicolorado but I can easily see these becoming my go to hard crack and steep climb shoes. I literally bumped up 1-2 letter grades the first day i used these. Probably not entirely due to the shoe but they really helped me because they do everything well. They felt powerful on little crimps and slabby parts and notched great and securely into pockets and cracks. The first thing I did when I put these on is send a long standing project of mine. That is the first time a shoe out of the box performed so well. Now I just hope the not stretching part is true. Awesome!
AMAZING
Review by: johncg, 2009-09-24
Great shoe love it amazing on overhang and slab.
Great steep rock shoe
Review by: freeskicolorado, 2009-08-28
This is a great shoe for overhanging rock. If you can't or don't want to wear a severely downturned shoe due to discomfort or whatever, this is the ticket. The overall last is flat to slightly downturned, but there the sole has a noticeable downturn just at the big toe. This makes the shoe perform incredibly well when toed-in on tiny edges and pockets on overhanging terrain.The downsides? These are extremely painful to wear on slabs. Vertical rock is bearable. Keep these on steep stuff where they belong. Also, the curvature and stiffness of the sole makes it difficult to smear on sloping footholds, overhanging or not.The shoe does not stretch in length at all thanks to the generous rand coverage over the toes. Heel and toe hooking performance is excellent.The Vibram XS rubber is, IMO, better than either 5.10's Stealth or Evolv's Trax. It's stickier, but may be less durable.Perfect bouldering shoe, or sport climbing shoe for places like the Red River Gorge or Rumney (where the footholds tend to be positive).