Pearl Velcro
Item Details
|
Reviews
(
3
)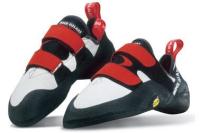 Description
This model is derived from its lace-up cousin Pearl and is clearly comparable with it. Like its lace-up version, Pearl Velcro performs extremely well on tiny edges. Its downward bent toe makes it an excellent tool to be taken onto overhangs or to make use of very small holes. The popular Velcro predestines this shoe for bouldering and short sport routes. The high quality adhesive rubber, the micro-fiber synthetic leather and the lined tongue are the hallmarks of this model. The lace-up and Velcro versions may seem to be competing against each other in our shoe line-up, but it just depends who is behind the steering wheel. * 4 mm VIBRAM * Synthetic
3 Reviews
great second shoe
Review by: vicen76, 2008-06-09
My first shoes were La Sportiva Cliff... typical beginner shoe... after couple months I realized that I need something more aggressive... I tried 5.10 galileos but it didnt work for me at all... I wear 9.5 for street shoes and i went down to 8.5 REALLY tight and snug but not painful at all... I can say that its a great shoe for bouldering and powerful short routes... you can do pretty much everything with these babies... smearing, heel hook, toe hook... I am so glad that i got them... Probably I will keep renewing them with new pairs when they will get old... Also its really good price when you think about what you get...
Rock Pillars Pearl Velcro
Review by: Hounds, 2006-11-25
These Pearl Velcro are awesome shoes.

I got them after I had alot of joint problems using 5.10s. Used to have a pair of Galileos but despite the rave reviews and testing out different sizes, it just didn't fit me and gave me toe joint pains that would last for a least a week after each climb.

The pearl velcros use a radical shoe last to drive power to the big toe which is different from 5.10s. And the profile of the shoe in the front is flatter and broader.

The vibram rubber sticks and smears pretty well and is very comparable to other brands such as 5.10. The rands are very slightly thinner so these shoes are more recommended for people with good footwork. Overall, the shoes are pretty durable.

The heel of the shoes are snug and tight without being overly so and pushing ur toes too much to the front so that they become crunched. The low heel and profile of the shoe will favour climbers who like a low heel, low volume/profile shoe or have low volume feet like me.

Overall, they are a great pair of shoes for a great price. I'm definitely getting a 2nd pair once I've worked through the current one.
Review
Review by: argo, 2006-10-30
They are excellent, at least for my feet. Grips well, dont stretch too much, excellent heel... really like them, probably I will buy them again :D