Predator Climbing Shoe - Mens
popular
Item Details
|
Reviews
(
19
)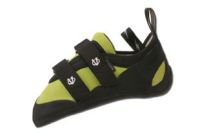 Manufacturer:
Evolv



This item may be available at:
Description
Redesigned to perfection, the Evolv Predator is lighter, more supple, and fits like a glove making it the best down-turned toe shoe in the world. Aggressive, adrenaline-pumping climbing on vertical to insanely overhanging terrain requires an aggressive and powerful shoe like the PREDATOR. The Predators asymmetric down-turned toe design lets you front-point and pull on tiny crystals and toe-in on pockets with surgical precision. While sensitive enough to feel the crystals, the non-stretch synthetic leather will give you a load of edging power for more than vertical faces. This specialty shoe is one of our top selling performance shoes in Europe and it is an absolute necessity for overhanging routes, steep boulder problems and for dominating the competition.
19 Reviews

Write your own Review


Read all 19 reviews
not impressed
Review by: keepitcreative, 2009-05-22
I'm not impressed at all with these shoes. First of all, the heel always slip. I can't rely in any way on my heel when I need it and it's very frustrating. They slip all the time. They also stretch a lot. Although the toe is nice and they're pretty good on steep stuff, that's probably all they do.

Slab: horrendous
Face/slightly overhanh: okay...
Steep: Alright

Also, i've had these shoes for 3 months and there's already a big hole on the tip of the toe, imo it's unreasonable for climbing shoes. The durability is very poor. And all evolv could do is send me 30% off on resole... pfff

Overall I didn't have good experience and these shoes didn't do it for me. 2.5/5
Evolv Predators!!!!!!!!!!!!!!!
Review by: agarrett_9, 2007-11-05
these shoes are sick!!!!!!!!!!!!!!!!! i got a pair through my local climbing team for who i compete with and let me tell you these shoes are amazing!!!!! i now only carry two pairs of shoes when i go climbing my Five Ten Anasazi VCS and my evolv predators...the rubber is awesome and sticks to the rock climbing nothing...onyx and trax5 are really close...onyx maybe a little stickier though...all in all these shoes are absolutely amazing!!!
amazing shoe, amazing service!!!
Review by: renbuskeh, 2007-05-07
i an not one to write reviews but i wanted everyone to know how awsome this shoe is. i have worn katanas, anasazis, locos and this shoe out fits and out climbs them all. they fit like a glove, you can stand on the tiniest crystals, edging is great and once you break the rubber in it is super sticky.they are the best steep climbing shoe out there in my opinion. evolv as a company is by far the best company as far as customer service i have ever delt with. they helped me fit my shoes to a glove, they are super knowledgable, speedy delivery and they are nice guys to boot. thanks Aldrin for all your help!!!!
Review
Review by: cmacblue42, 2006-12-24
Geez!! These shoes are amazing!! While testing them out at the climbing gym i bought them from, i was amazed at how well they gripped onto footholds. The first 2 climbs i did in them with tiny feet and they just sticked and stayed and were flawless. Keep in mind these shoes are not for begginers or those with poor footwork. In order for them to be amazing, you have to be on your big toe. not the outside of your shoe, not the ball of your foot, your big toe. The shoe fit will just keep getting better as your climb in them. If this is your first pair of Down turned/ assymentrical shoes, then you will feel your pinky toe kind of coming underneath your other toes. This is what is supposed to happen and this is what concentrates all force toward your big toe. They will mold and get more comfortable after a couple sessions. The design is amazing as well. I would agree with another reveiwer that said it was like the venom+the V10 which is also what makes this shoe such an awesome steep climbing shoe, which is combining the best features from two other top steep climbing shoes. These are awesome shoes and i cannot wait until they mold a little bit more. Reveiw after they are fully molded will come shortly.
ok...
Review by: climberboy193838, 2006-12-16
just got a new pair, and it seems there is a lot of dead space for my feet, and when i heel hook, they slip. the toe is nice and the rubber ok, but about that no stretch thing, my feet were perfect in them the first time i wore them, then they started stretching, a lot. overall, im not that impressed, but i guess i'll have to break them in some more before im totally sure.