Super Loco Climbing Shoe - Mens
Item Details
|
Reviews
(
2
)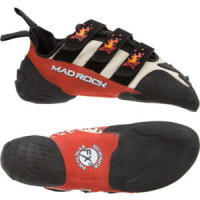 Manufacturer:
Mad Rock



This item may be available at:
Description
Mad Rock made the Super Loco Climbing Shoe for advanced climbers who love steep, overhanging routes. This aggressive shoes radically arched design helps with toe and heel hooks, so your legs dont end up swinging out on roof sections. The stiff Super Loco Climbing Shoes synthetic upper wont stretch out, and Mad Rocks ultra-sticky Rubber Formula helps make the best of crimpy sections on the rock. The 3-D molded heel cup helps eliminate slipping, and a 3-D molded Ribbed Power upper on the top of the Super Loco Climbing Shoe adds grippage for your toe hooks. A thin padded lining and neoprene tongue add comfort, and a binding tape around the ankle creates a tight, secure fit.
2 Reviews
Good rubber, but not long lasting
Review by: dkerr787, 2007-07-17
When I first got a pair of these I was amazed how aggressive they were. The first day I tried them they hurt soooo bad, I could not climb with them. Once they broke in they were perfect, I was amazed that I was on such small foot chips and was able to put all my wieght on them. These shoes are perfect for bouldering and sport climbing. The only bad thing about these shoes was that they did not last long in 2 months I already burnt a hole in the front of both shoes and I only used them in a rock gym, also when the holes apeared the rubber did not quite grip as well as they originally did.(this is not very fun when you are in a hard route trying to clip in). Overall it is a good shoe, but if it would last longer it would be a better shoe.
True performer
Review by: miavzero, 2007-01-29
Mad rock botched the remake of the mugen, but got their stuff together for the super loco. This shoe features a ribbed patch that works well for toe hooks, flames to replace the spider web stuff that always came off the old locos, a triple strip system that now stays down, and a padded top. The fit seems a little less aggresive, but still very powerful for precise footwork.