Veloce Rock Shoes
Item Details
|
Reviews
(
3
)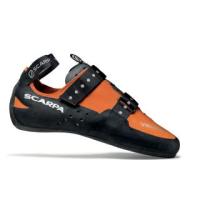 Manufacturer:
Scarpa



This item may be available at:
Description
At home at the gym or the crag, the Scarpa Veloce rock shoes offer comfort and performance to help you progress through the grades. Board-lasted design uses a stiff, supportive insole in the shoes construction board-lasted shoes excel at edging and offer great comfort. 5mm of sticky Vibram XS Grip rubber provides long-lasting performance. Convenient rip-and-stick straps fine-tune the fit and allow for easy on and off.
3 Reviews
Not a great shoe
Review by: secander, 2011-05-07
For the record, I normally climb in my La Sportiva Miuras. I picked up a pair of these for a good discount as a backup shoe. Compared to the Miura, these shoes are quite painful. Furthermore, the rubber isn't very good and makes smearing difficult. Even edging is tough compared to the less-stiff Miuras. Though not a terrible shoe, I wouldn't buy them again.
Good shoe
Review by: Benzesp, 2009-06-18
I bought these at REI as a quick fix becaues I blew out my Evo's. These have a stiff sole which is kick ass for tiny foot jibs, give you a lot of leverage when pushing down on your toe. The more I climb in these the more I like them. Great in the Gym or on sport climbs. I had to get these in an size 8.5, I wear a 10. Not much padding, were uncofortable for a couple of weeks but now they are not so bad. Dog ugly orange color, boo..
Not bad.
Review by: Benzesp, 2009-05-26
Totally diffrent shoe than my Evo's. I wear a size 10 street shoe and took them back to REI after buying a 9. I had to get a 8.5 to get them tight enough to make them workable. Very stiff sole provides lots of leverage and bad ass edging. Liking them more and more every time I climb. The rubber is really sticky and so far seems to be wearing evenly. Not comfortable, all leather upper has almost no padding but what you loose in comfort you gain in feel of the wall. Mine are the newer Orange and black ones, I dont know if the older green ones are that much diffrent. I would not reccomend these to new climbers because of the discomfort.