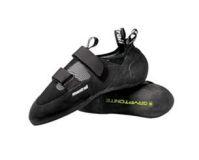 Manufacturer:
Montrail



This item may be available at:
Description
If you spend time memorizing the moves on your latest project, whether it is at the crag, the boulder, or the gym, then the Zealot is your shoe. The Zealot is a high-performance synthetic velcro slipper. It is built on a super precise, cambered last to focus your foot power right to the spot where the rubber meets the rock. To maximize its precision, there is a 1.0 mm molded nylon midsole for excellent edging power and control. The Zealot is really two slippers in one: first, it is a sock-like slipper that hugs your foot with a breathable, stretch nylon mesh, then there is an external harness made from a rubberized synthetic which closes with two opposing velcro straps to securely lock your foot into the lined, synthetic Nubuck upper. The heel is made from multiple layers of Gryptonite™ rubber to create a secure, sculpted heel pocket that is vicious for heel hooking.
29 Reviews

Write your own Review


Read all 29 reviews
Love these shoes
Review by: fosterm6, 2009-09-19
I bought these shoes at the beginning of the summer and climbed on them heavily all summer, both outdoors and in my home gym. They've performed amazingly on both, they work amazingly on my local crags Smith rocks (Tuff rock). The slipper with velcro works great to get the shoes tight, yet they fight like a glove. Bought half a size to small and the shoes have stretched to fit my feet. Would definitely recommend to a friend.
not so great
Review by: wasatchinboston, 2008-04-08
These are my gym only shoes because they perform so poorly on my local granite. The toe rand is shredding in a strange way, and the sole is separating from the rand in the tou area. I find the rubber too stiff for good smearing, scumming, hooking, you name it.
The synthetic leather also stinks something awful, but that could be mt fault.
Great shoe for the price.
Review by: Alphaboth, 2008-04-05
I have yet to take these shoes outside, but they have been wonderful in the gym. Nice moderately aggresive turned toe and the synthetic rubber is pretty neat. I bought a size small thinking they'd strech and they have. hard to get on but they get more and more comfortable every time i wear them. the rubber is awesome frankly...for the gym at least. I prefer them over some older five tens i've been using. They seemed a little waxy when i first got them, but the out layer had worn off and now they're super sticky. If they're as good outside as in the gym, i'll be super psyched about these shoes.
Zealot
Review by: JAB, 2007-05-22
I bought mine at a closeout sale, and it seems the shoes had been for almost two years in the store. That might or might not be a reason why they perform rather poorly. The rubber became quite slippery after maybe 50 climbs, and now I have stopped using them. I might consider resoling them to see if that helps, but at the moment I am too happy with my other shoes (Red Chili Spirit).
Couldn't GIVE me another pair
Review by: spladdict, 2007-01-10
I bought these shoes because I had good luck with my montrail trailrunning shoes. Boy was I wrong. The toe has completely separated and I find then to be about the most slippery shoe I've tried. I climb in La Sportiva Mantra S and am very pleased at their performance. I would avoid these at all costs.