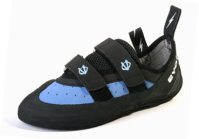 Manufacturer:
Evolv



This item may be available at:
Description
The HERA is a women specific performance shoe with a non-aggressive fit, designed for women or anyone with narrow, low-volume feet. The microfiber lining is one of our favorite materials for feeling great on the skin and comfortable with minimal stretch. The perforated and breathable, sky blue color uppers will keep you cool in the sun even when your adrenaline is rising as you send the crux. We equipped it with an extended toe rand that is functional for toe-hooking without feeling excessive and the tri-grooves relieves pressure off the big toe. The HERA is A versatile, all-around bouldering, sport climbing and competition climbing shoe for women. Note: 1% of all sales of this shoe are donated to the Hera Foundation for research in curing ovarian cancer!
Editors Review
| | |
| --- | --- |
| | Evolv is giving back with the new Hera shoe, and Special Guest Reviewer Lazygirl checks them out on her summer road trip. |
2 Reviews
Excellent All Around Technical Shoe
Review by: Jrocketclimber, 2009-03-16
This is my first women-specific shoe and I am quite happy with them. I found one size was too small and the other was a bit big, and for the first time, I went with the larger size. I got the Hera to be a good technical shoe for longer routes, so sizing a little big should keep my feet comfy. They don't feel too big when I am climbing and they are surprisingly comfortable between pitches. My first route with them involved a fair amount of smearing, and the Evolv rubber was plenty sticky, yet the shoe is stiff enough for more vertical climbs. My only complaint is that my feet do get pretty warm in them, so I wish they had a vent hole or two to keep the air moving.

All in all, an excellent all-around, technical shoe.
Evolv Hera
Review by: Climbin4Vs, 2007-08-22
I use this shoe strictly for bouldering. I also own Evolv's Rockstars in 6.5 that fit perfectly, if that helps anyone with a sizing comparison.

Sizing: My street size is typically a 7.5 and I bought the Hera's in a 6.5. Out of the box Hera's had a great tight fit without any toe cramping or pain. After about a month of use though I noticed the shoe to stretch, about a half size. ***This sizing issues may be due to the shoe being so new on the market and perhaps they're kinks that need to be worked out…?

Performance: Outdoors I felt this shoe performed at an A+ level. My confidence in smearing definitely increased with this shoe. It also provides excellent sensitivity making edging a breeze. The sole is extremely flexible and the extra toe rand definitely aids in rough toe hooks. Be aware that if you are climbing in extremely hot or sunny areas these shoes, as with so many others, get extremely hot! Indoor, I felt it was just as good but I definitely prefer their performance on real rock versus plastic.

All in all a great shoe, but the price seems a little extreme for the problems that come along with it. But anything to help the Hera cause is worth it.