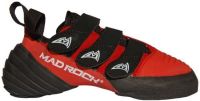 Manufacturer:
Mad Rock



This item may be available at:
Description
Our burning desire to create the ultimate shoe for the female climbers on Team Mad Rock fueled the fires of Mad inspiration and the Hottie was born. The narrower heel, arch adjustment and the low volume toe box creates the ideal fit for women. Our Mad Technology brought the hooker heel and the power upper to allow you to find even the tiniest flake. We added a semi-stiff midsole for exceptional edging. Comfort for multi-pitch routes was high on the list and we have achieved that with a padded heel cuff and a padded ventilated tongue This is the ultimate high performance shoe for the female foot and it is completely engineered for a woman's physiology and method of movement.
Sole: 3-D molded dual density, dual thickness Hooker sole, Mad Rubber Formula # 3 & 5
Heel Cup: 3-D molded Hooker heel with descent tread, Mad Rubber Formula #3
Rand: 2.2mm Mad Rubber Formula #4
Midsole: 1.5mm compressed fiber midsole
Upper: 2.0mm SupaSuede leather, lined & padded
Construction: Double stitched, Padded cuff, X-Static antimicrobial treatment, dual external pull tabs
Entry/Closure: Dual external directional pull tabs, triple Loctite laminated, die-cut hook and loop straps
Available Sizes: US Womens 3 to 11
3 Reviews
Good For A Male?
Review by: Fa310tx, 2009-03-02
I'm a guy. From what I've read, I have a low-volume foot. I e-mailed mad rock and one of their guys recommended the hottie to me in a women's size 12 (10.5 male). I wear a 10.5 street shoe. The width was great. My foot felt very secure in the shoe. I will agree with another post that the toe box is very narrow. I think 10.5 might be just a bit misleading, though, as it felt more like a 10. My toes were bent pretty sharply. I think my toes would have fit better if the shoe didn't push your foot into the toe box so much, but that's what it's designed to do.
I think a guy with a narrow size 10 foot would do fine with these shoes.
JJ
Definitely puts the "hot" in hottie
Review by: alicai, 2007-06-07
I found the padding in these shoes to make my feet get incredibly hot and sweat which lead to swelling and too tight shoes. I own the madrock "flash" shoes and love them (although I did wear them out quickly) but I do not recommend the hottie if you want a breathable shoe.
Review
Review by: oldrnotboldr, 2006-05-04
Got these for my daughter to advance her skills with. My observations: the hottie has helped her develop smearing technique quite easily. Also, the heel cup is helping her perfect her heel hooks equally easily. The down side that I have noted: after 2 hours of rock work the soles are showing wear- owing as a testament of other's complaints about the longevity of mad rubber. My daughters' comments: smear easy, heel hook easy, edge super. the toe box and heel cup are too tight. Some of the tightness should ease with wear. But I would suggest getting these a half size over.
The hottie is definately not a beginners shoe. The advanced features work well but are not an all day shoe. Also the soles do wear fast as noted by users of other mad rock shoes. All in all a great shoe at a decent price for advanced climbing moves.