Quest-AF Rock Climbing Shoes
Item Details
|
Reviews
(
1
)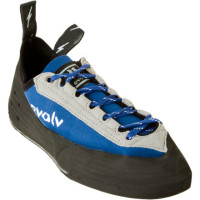 Manufacturer:
Evolv



This item may be available at:
Description
An upgraded version of the QUEST Climbing Shoe, the Evolv Quest-AF Climbing Shoe one of our all-time most popular shoes. It is a versatile all-purpose shoe that is technical enough to use on hard trad climbs in Yosemite and Indian Creek and when sized comfortably can be used on long all-day climbs without sacrificing performance. Equipped it with a visible, full length stiff midsole for extra support, the Quest-AF has awesome edging power. The low-tension heel rand and plush nylon lining make them a pleasure to wear while the asymmetric toe profile provides good technical performance. The versatility of the Quest can benefit climbers of all levels.
1 Review
good stiff shoe
Review by: i-like-jugs, 2009-09-07
This shoe is hands down one of the most comfortable climbing shoes that i have ever worn. Granted that i sized it to the perfect shoe size, i think that if you were to size it smaller you would still agree.

The sizing: Most of my climbing shoes are 10 1/2 to 11, but i sized these for crack climbing so i picked my street shoe size that has no wiggle room. So i sized it to 11 1/2, keeping in mind that 12 is my comfortable street shoe size but has a little dead space.

The Fit: The shoes are just amazingly comfortable. The uppers are synthetic and totally comfortable, more so that any leather shoes that i have tried (Moccs included). There is no dead space, nor is there a hot spot. The heel doesnt rub. Being that they laces they are totally adjustable. There was some looseness in the shoe but that quickly dissolved.

The Rubber: The rubber is thick and holds up well on granite. It is quite sticky and smears somewhat (being that smearing with a stiff shoe is hard anyway). There is plenty of it.

The Performance: The edging is great. The rubber is very stiff but not to the point of no sensitivity, its just not the shoe that you would want to do some overhanging bouldering with. The shoe seems responsive on vertical to less than vertical, and most impressive in cracks where you feel that your feet are armored. I never had foot pains in any other part than my toes (from standing on really small crystals for a long while).

Overall: One of the best stiff comfort shoes on the market.