Rockette Climbing Shoe - Womens
Item Details
|
Reviews
(
2
)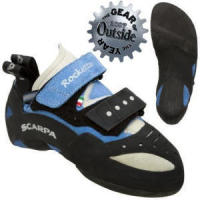 Manufacturer:
Scarpa



This item may be available at:
Description
Scarpa Womens Rockette Boot Spring 2009 The Womens Rockette Boot by Scarpa is like the Booster but built to fit womens feet.Features:Upper: Suede/LoricaClosure: Adjustable hook/loop strapsMidsole: X-tension systemSole: Vibram XS Grip 3.5 mmLast: FHWWeight: 400g 38Scarpa Product WarrantySCARPA products are covered by a 1 year limited warranty from the original date of purchase. This warranty covers defects in materials and workmanship. Damage that is due to normal use and wear, abuse or accidents is not covered by this warranty. Products that have been resoled or otherwise modified are excluded from this warranty. Fit is not covered by this warranty. Except as otherwise specified above. SCARPA MAKES NO WARRANTY OF ANY KIND, EXPRESSED OR IMPLIED, INCLUDING WITHOUT LIMITATION ANY WARRANTY OF MERCHANTABILITY OR FITNESS FOR A PARTICULAR PURPOSE, OR ANY WARRANTY AS TO THE DESIGN CONDITION OR QUALITY OF MATERIALS AND WORKMANSHIP TO THE PURCHASER OF THE GOODS PURCHASED HEREBY OR ANY OTHER PERSON WHATSOEVER.SCARPA North America, Inc. reserves the right to make all warranty determinations which may include but are not limited to repair, replacement or credit for the product. If it is determined that there is no warranty issue with the returned product, the product will be returned to the dealer with a note of explanation.We ask that dealers are our first line of service in the warranty evaluation process, and prefer that all consumer warranty returns be handled through an authorized SCARPA dealer.
2 Reviews
Super sticky shoe, but can be painful.
Review by: shimmer, 2008-07-10
The good:
These shoes *stick*. If there is ANYTHING on the all to stick to, they're going to find it. They're that sticky. They're VERY aggressive. Great bouldering shoes for over hanging stuff, your feet will feel so super strong in them. They will stretch but not a whole heck of a lot.
The Bad:
The heel could be improved dramatically...they're not as gripping as I would like. But, the heel cup is perfect as far as depth for a female foot.
The REALLY bad:
The seams across the front of the shoe are ridiculously painful on the top of the toes. I've got a 37.5 and a 36.5, the pain isn't as bad (surprisingly enough) in my 36.5s. Standing in these shoes, vertical climbing in these shoes...it huuurrts.

If my shoes were children these would be my favorite and the other kids would just have to deal with
Review by: alice, 2008-06-17
Ok, so straight out I'll admit a bias. Scarpas were my first shoes and when they stopped selling them in Canada for a while I was a bit upset. Thank God for amazon.com.

Pros- Despite being highly down-turned I found the wider toe area makes these really comfortable.
-The rubber around the toes is holding out a really long time and I find the rubber stickier then my old 5 10s and Sportivas.
- Unlined means these shoes really form to your foot if you can stand them tight for a bit.
- The velcro and tongue are really comfy. For such an aggressive shoe I can't believe how nice they feel.

Cons- Hmmmm.... I guess the rubber could be a little stickier and maybe they could put some stuff on the heel to make it grip better like Madrock. If you like flat shoes these aren't for you.