Rockstar
popular
Item Details
|
Reviews
(
8
)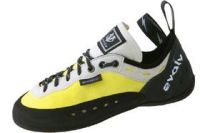 Manufacturer:
Evolv



This item may be available at:
Description
Evolvs top selling womens climbing shoe, the Evolv Rock Star Climbing Shoe for Women is the proud winner of the 2004 Editors Choice Award for Best Womens Climbing Shoes from both Rock Ice Magazine and Climbing Magazine. The ROCKSTAR is an all-around climbing shoe that performs well on cracks, sport climbs, and all-day multi-pitch climbs without sacrificing performance for comfort. The graded-width lacing will accommodate even the narrowest feet and the comfortably tensioned heel rand will make them a pleasure to wear on longer routes.
8 Reviews

Write your own Review


Read all 8 reviews
Favorites
Review by: bongowurm, 2006-12-15
Easily the best rock shoe's I've owned. I heard they would not stretch, but after first worrying I bought them a half-size too small, over four days of climbing they conformed to my foot's shape. They are the most sensitive, best fitting, and, aside from an ultimately blown toe rand, most durable shoes I've had. I just ordered a second pair with a "super toe rand" to correct this problem, although it has apparently not bothered others. For technical climbing, they are awesome!
Review
Review by: darkbluerabbit, 2006-01-22
These shoes are lovely. I find myself trusting my feet more which has improved my footwork a lot. They fit wonderfully and the non-leather upper is a big plus. There's plenty of rubber on the toe and the heel is great for hooking.
Review
Review by: climbs4fun, 2005-08-02
Great shoes! Comfy, too. Special thanks to [user]caughtinside[/user] for turning me on to them! You da man!
Review
Review by: gblauer, 2005-07-14
The fit on this shoe is terrific. It is designed for women so you really have a snug fit. What I don't like is the lack of sensitivity. The sole (at the toes) is simply too thick. I loved my anasazi lace ups for their sensitivity, alas the fit is unisex and hence too big for my heel.

Now, if Evolv could put a little less rubber on the sole, make them slighly more sensitive I would be dancing for joy.

All said and done, I really like the shoe, I am forcing myself to wear them every time I climb. I am getting used to them and am constantly (pleasantly) surprised at what I can do while wearing them.
Review
Review by: prathos, 2005-04-11
These shoes fit like a glove. The heel, arch, and toe all hug my feet like a second skin so it's easy to forget that I'm wearing them. The rubber provides awesome friction and excellent performance.

Evolv has done an outstanding job by putting excellent care into the design and workmanship of this shoe! Perfect for a woman's foot!