Womens Mythos Climbing Shoes
Item Details
|
Reviews
(
8
)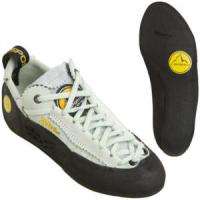 Manufacturer:
La Sportiva



This item may be available at:
Description
Redesigned for better hot weather comfort, this female-specific Mythos offers all the same great fit and functionality of previous bestselling incarnations, but now it has a highly breathable Dri-Lex liner along the tongue to help keep your feet cooler on the wall or at the gym. La Sportiva intentionally refined this popular design intentionally for women climbers so you enjoy a narrower heel and a better fit for lower ankle bones. Whether youre new to the sport or youre a veteran looking for a fit thats almost second nature, the Mythos gets it all right with a secure and patented lace-up closure.
8 Reviews

Write your own Review


Read all 8 reviews
Best trad shoes
Review by: bongowurm, 2006-12-15
It's true what they say about small cracks... they hurt. So would these shoes if they didn't have the rounded toe that makes them comfortable after five pitches of jamming. The price is high, but it is worth it for these durable shoes that have made me, a narrow footed man, happy on granite for 2 years now.
Review
Review by: witchec, 2006-10-26
Love these shoes! I originally got a pair of Evolv Bandit's and although they are synthetic they stretched too much in the heel so I traded them in for the Mythos (thank god REI has a rad return policy!). The Mythos are much narrower, edge great and have been holding up really well and not stretching too much. The laces down the toe and around the heel are great, make keeping them nice and tight easy, but losen up a little for all day use. The toe isnt great for small holds but they jam in cracks pretty well. Nice shoe!
Review
Review by: macherry, 2004-07-01
I've been climbing in these shoes for a month, and i love them. I bought them specifically for an all day, multipitch trad shoe. The rubber is good (comparable to the stealth).

They edge well and smear well too. My only problem with them is that they don't tighten enough around my heel.....but then i'm used to a slingshot heel in my mocs and baras.
Review
Review by: girlclimb, 2004-06-10
I love my mytho's. i have long narrow feet, especially in the heel. They are super comfy, they are an excellent all around shoe. find that they strech quite a bit. They are great!!!!!
Review
Review by: mwbtle, 2004-05-20
I have short wide feet, and I can still give these shoes a thumbs up. I wear the smallest size they make though, a 33, and they are just barely tight enough to not make me worry about too much stretch...so women with really small feet, and children may not be able to find a size that fits.
They are already fairly comfy to keep on for a long climb, and I've not worn them much. They edge well, and so far I have no complaints.